Nigeria
'We used an inexperienced team'- Dennerby explains Super Falcons' Wafu title miss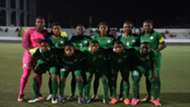 Nigeria women head coach Thomas Dennerby has explained that his side's missed out on winning the maiden Wafu Women's Cup owing to inexperience.
The Super Falcons bowed to Ghana on penalties in the semi-final but silenced Mali 2-1 to clinch the third-place bronze medal.
And the Swedish tactician admits disappointment crashing narrowly against the Black Queens, though, he expressed delight at his team's incredible progress at the football event.
"For these ten days, if you assess all the five games we played, I must say I'm really satisfied with the girls," Dennerby told Goal.
"Because we knew already when we arrived here that we were using an inexperienced and young team. It was a bit hard coming together for the first time but in the ten days, we have understood ourselves more and a lot has improved better.
"I'm happy we did very well against Mali and did not return empty-handed. The only disappointment I had was our loss on the penalty shoot-out against Ghana but in five games we were undefeated at the full time and that was a strong performance from our young girls."
"As it used to be in every squad, we have some players that we really perform well in every game and others that were a bit irregular in their performance," he continued.
"But that normal for some young players and I'm not worried about that because when we give them a little more experience - they will be able to be more fit and play regularly.
"Possibly, why we were a bit inconsistent were because we had some that were in good shape and fitter while others were just returning for their club pre-season. Overall, I'm satisfied.
"Of course, it is important for me to see them [Ghana and Cote d'Ivoire] and know how they are playing. I also saw their final to do some notes on them.
"But we know that we have 15 to 20 players to bring in to the senior team and that possibly everybody knows that this is more like our U20 team with few older players between 22-23.
"Everybody knows that the Nigerian team has a lot of players that could bring in more power and experience when playing against any team."