Tottenham Hotspur
'We don't talk about the title' - Lloris adamant top-four finish is still the target for Tottenham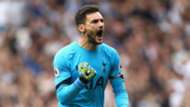 Hugo Lloris insists Tottenham's priorities have not changed despite closing the gap to Chelsea in the Premier League title race.
With the Blues suffering a rare setback at home to Crystal Palace on Saturday, Spurs took advantage with a 2-0 win at Burnley to move to within seven points of the summit.
Pochettino: Spurs in title mix
There are still nine fixtures to come this season, with 27 points left to play for, and it could be that the battle for top-flight supremacy becomes a little tighter than many expected when Chelsea surged clear.
Lloris, though, is reluctant to be drawn on the issue, with the France international goalkeeper insisting that a top-four finish and Champions League qualification remains Spurs' sole target for now.
He told reporters after victory at Turf Moor: "Honestly, it doesn't change my mind or the minds of my team-mates.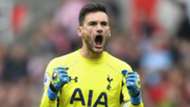 "We're still focused on ourselves. We need to carry on because it's very tight in the league behind us.
"Anything can happen so it's important to stay involved, to stay together and keep fighting until the end because we want to finish as high as possible in this league and be back in the Champions League.
Poch: Dembele is like Maradona
"We don't talk about the title because even seven points is a big gap at this stage of the season.
"I prefer to look backwards and to look at what is happening behind us because this is the final race. It's a key moment of the season."
Spurs are next in action against Swansea City on Wednesday, while home dates against Watford and Bournemouth will carry them into an FA Cup semi-final clash with Chelsea on April 22.