Abdul Waris
Waris urges struggling Lorient to fight for Ligue 1 stay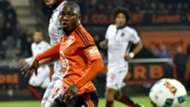 Lorient striker Abdul Majeed Waris is confident in the club's chances of maintaining their place in the French elite division.
Les Merlus have been disappointing this season, their poor performance plumbing them to third from bottom on the league table.
Their situation did not get any better over the weekend as they fell 2-0 to Montpellier - the club's 20th league defeat of the campaign.
"I believe in it [staying in Ligue 1] very strongly," Waris told his club's official website.
"We have fantastic supporters. I can understand that they are disappointed this season. But we will give everything to stay. Their support will be paramount in the last matches. 
"And these last meetings are very important for Lorient. Not only for the club and its fans but for everything Lorient.
"Today we are in this position but we must give everything to get out of it. We must fight, and then be proud of what we have achieved."
By their poor form, pressure abounds, but the Ghanaian says his outfit must be ready for the challenge.
"Football is an area where there is a lot of pressure," Waris said.
"We must be ready to feel it, to face it. I like the pressure. 
"I always said that we had to work hard to get results. That is what we are doing."
Waris has netted eight times in 30 league appearances involving 26 starts this season.