Premier League
Walcott snubs Alexis & Ozil as he picks Bale as third best in the world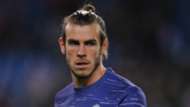 Theo Walcott has ignored Mesut Ozil and Alexis Sanchez as he identified Gareth Bale as the third best player in world football.
Real Madrid star Cristiano Ronaldo and Barcelona ace Lionel Messi are widely considered the two at the peak of the sport, although the debate over who is directly behind them is as open as ever.
Walcott back in contention for Arsenal
Antoine Griezmann finished third place in UEFA's recent 'The Best' award ceremony, while the likes of Neymar, Luis Suarez, Zlatan Ibrahimovic and Diego Costa also have legitimate claims to be considered amongst the very best.
Arsenal duo Ozil and Alexis, who continue to be linked with moves away from the club as contract negotiations stall, will also believe they are up there with the top players in Europe, with both having played starring roles thus far in 2016-17.
But Walcott, perhaps surprisingly, has named Madrid winger Bale as his pick for third best player in the world, ignoring the presence of his Gunners team-mates.
He told the club's official website: "If I'm being honest I didn't think he'd be, for me now, the third best player in the world. It's just my opinion.
"When you think he's a left-back and kept moving up and up and now can obviously play at No.10, left-wing, right-wing and some of the goals he scores. He's proving me wrong, that's for sure.
"It just shows, it's hard work. It's what it comes down to."
Walcott also reflected on his time as a team-mate of Bale's at Southampton, and thinks the 27-year-old has all the attributes to be at the very top of the world game.
Ex-Chelsea star: I should've joined Madrid
He added: "We're the same age. We used to live in the same room together at the lodge at Southampton. We loved messing about.
"It just shows, you put your head down, you work hard you can do anything. You just have to put your mind to it. You look at him as an athlete as well, he's got all the attributes you want as a footballer.
"He's only going to improve. He's still relatively young and he's done a lot. He's playing very well for Wales, him and [Aaron] Ramsey taking Wales to a different level. It's good to see, I'm really pleased for him."