WAFU Cup of Nations
Wafu Women's Cup draw: Ghana battle Cote d'Ivoire, Nigeria face Mali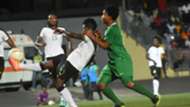 Wafu champions Ghana will face hosts Cote d'Ivoire, Togo and Senegal in Group A at this year's Wafu Women's Cup in Abidjan. 
At Tuesday's West African Football Union Women's Cup draw held in Abidjan, African queens Nigeria will square up against Mali, Burkina Faso and Niger in Group B.
It will be the second edition of the regional women's tournament and scheduled to be held from May 8 - 18 in the Ivorian capital after a successful hosting of the maiden event in February 2018.
Hosts Cote d'Ivoire will launch this year's competition against Togo at the Robert Champroux Stadium, while Senegal square up against Ghana on May 8.
In Group B, Nigeria will begin its campaign for glory against Burkina Faso at the Stade du Parc des Sports on May 9, while Niger will tackle Mali at the same venue on the same day.
OFFICIAL FIXTURES FOR WAFU B WOMEN CHAMPIONSHIP @UfoawafuB @CAF_Online @fifamedia @FIFCI_tweet @FIFAWWC pic.twitter.com/B213a2HMSy

— UFOA B/WAFU B (@UfoawafuB) April 16, 2019
The 10-day regional competition is organised outside the Fifa international window but foreign-based players are open to representing their various countries.
The top two teams from Group A and B progresses to the semi-finals with the emerging losers and winners face-off in the third-place and final matches.
The eight-nation tournament will serve as the Women's Olympic qualifier preparation for Ghana and Mali, while Nigeria continue their build-up for the 2019 Women's World Cup.
Ghana defeated hosts Cote d'Ivoire 1-0 to emerge winners of the first edition at the Robert Champroux Stadium on February 24, 2018.