World Cup
Vodacom Red Preview: France quite conscious of Belgium threat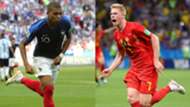 Who else would you fear at a football global showpiece after slaying giants Brazil, a team widely seen as number one favourites?
Initially dubbed as underdogs of the ongoing tournament, Belgium now appear to be frontrunners in Russia, where they have established a home, after recording five straight victories, scoring 14 goals.
So far, talent, determination and solidarity have helped the Red Devils plough their way through in the competition, with the belief of reaching the final and clinching the ultimate getting stronger.
However, there is one more step to surmount before D Day (July 15), which is the clash with France in the semi-finals.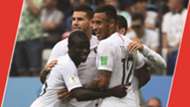 Both teams are star studded; made up of young and seasoned players. Both teams boast of players with African origins. In fact, 22 from both sides have roots in Africa. Therefore, expect a balance of pace and strength.     
But Belgium, who possess a better midfield density, could hold off Les Bleus over a long period and perhaps drag the meeting further from regulation time.
France's ambition is clear. They want a repeat of the 1998 edition, when they won the competition for the first time.    
Across the games played so far, coach Didier Deschamps is getting convinced that he has the quality to achieve that dream.
The team's pace and ability to break transitions from opponents have been their main strength so far in the tournament. They were able to crush robust Uruguay using that strategy, and are likely to come up against Belgium using those arms, with Kilian Mbappe, Antoine Griezmann and Olivier Giroud animating the fray.
However, Belgium's Vincent Kompany-led defence has been tested and proven, and could live up to the expectations on Tuesday.
France would likely stick with their all-round attacking display from the blast of the whistle, but could be slowed down and disconcerted if Belgium are able to hold the ball in the middle of the park, with Kevin de Bruyne and Eden Hazard building up play.
It is surely going to be a clash of the titans, and as several French-speaking media put it, 'it would be the final before the real final'.