Lionel Messi
VIDEO: 'We're here for you Messi' – The Strokes pledge support to Argentina ace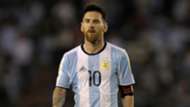 It may have been a complicated week for Lionel Messi, but at least he has support of rock band The Strokes.
Life ban for brutal referee assault
The band, whose five albums have all reached the top 10 of the UK charts, were playing the Lollapalooza festival in Buenos Aires when vocalist Julian Casablancas told the crowd: "Be nice to Messi".
Argentina's star man has been banned for four international matches following an angry outburst against an assistant referee during his country's match with Chile. The suspension was only confirmed by FIFA on the eve of a World Cup qualifying fixture away in Bolivia, which the Argentines subsequently lost 2-0, leaving their hopes of reaching Russia 2018 distinctly in the balance.
It was a suspension branded "unjust" by his club, Barcelona, and now the Strokes have weighed in on the debate.
"We're here for you Messi!" Casablancas proclaimed, to the apparent pleasure of the crowd.
Messi missed Barcelona's 4-1 victory over Granada on Sunday due to a domestic ban.