Victor Nunu hails Fast Five's 'fighting spirit' after dramatic Premier Cool Turf Wars triumph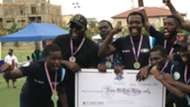 Fast Five were crowned winners of Premier Cool Turf Wars 5-a-side competition in the most dramatic fashion, and coach Victor Nunu hails his side's 'fighting spirit'.
Nunu's men ran out 3-2 winners in penalty shootouts over Photo Studio in the showpiece, having come back from a four-goal deficit to survive a ten-goal thriller in regular time.
Goalkeeper Azeez Opeyemi converted the winning kick to help Fast Five clinch a surprise victory.
"It was really a hard fought battle. We were on the back foot and conceded four goals into the second half and then, we just had to use all [of our] fighting spirit. And we came out, played and the result speaks for itself." Nunu told Goal .
"In all honesty, I didn't see [the tough clash coming]. But by the time we were 2-0 down, it became reality. And there's this reality check saying I have to do something otherwise, we're going to lose this game.
"And going into the second half, we conceded another two in succession. My brain literally locked. But, deep down, I was like we're still in it.
Speaking on the tournament, the coach said: "[Premier Cool Turf Wars] is a wonderful competition. I pray they get to do more of this frequently. It's something other brands should even emulate as Premier Cool are pacesetters already.
"They've brought this to the limelight and I pray they can take this even farther than what we've just witnessed here today.
"The best way [to improve] is to do more by carrying out publicity about it. There are flaws here and there but it's normal for every competition. But, we really appreciate it, it was a top-notch tournament," he concluded.