Mamelodi Sundowns
Vengeance in the air as Mamelodi Sundowns prepare for Casablanca test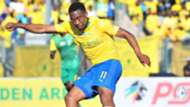 Mamelodi Sundowns star Sibusiso Vilakazi has suggested that vengeance may be on the cards when they come up against Wydad Casablanca on Friday night.
It has been just under a year since Wydad ousted the then defending champions, Sundowns, out of the Caf Champions League on penalties, and the Moroccan giants would go all the way and lift the crown.
However, this time around Sundowns are hungrier and certainly look formidable as they look forward to the highly anticipated matchup.
"We didn't have a favourable result the last time we went there," Vilakazi told The Star.
"This time around, we'd like to go there and try to change that situation and get a result. It would be a very huge moral boost to beat them at home, but we know that it won't be easy," he added.
"They are a very good team, that's organised. That's why it's been proven in the past as they give us problems," he continued.
This will be the second meeting between these two juggernauts of African football, with the first meeting held in Tshwane having ended in a draw.
This has perhaps influenced Mosimane's men to arrive early in Casablanca in order to give themselves time to acclimatise and study their opponents.
Sundowns jetted off for Morocco via Ghana on Monday and landed on Tuesday in Casablanca along with a 23-men travelling squad.
"At Sundowns, I think it's always been like that; where we travel earlier and give ourselves enough time to acclimatise to the situations,''Vilakazi explained.
"We also want to prepare much better. The most important thing for us is to be better prepared, so that this will show the seriousness of the game. We'll also get a chance to go and check-out the surface conditions earlier as well,'' he expressed.
Meanwhile, Sundowns might favour their chances as they head into the clash on the back of two back-to-back wins in domestic football.