Manchester United
Valencia expecting Man Utd to challenge for 'every trophy' in 2018-19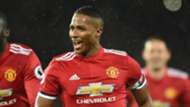 Antonio Valencia has seen improvement from Manchester United this season and expects them to be challenging for "every trophy" in 2018-19.
The Red Devils claimed three pieces of silverware during Jose Mourinho's debut campaign at the helm – with Community Shield, EFL Cup and Europa League triumphs toasted.
They have just one title to aim at this season, having made the semi-finals of the FA Cup, but are considered to be heading in the right direction.
A return to Champions League competition has been made this term, while a Premier League standing looks set to be improved from sixth to second.
Valencia believes that bodes well, telling United Review: "I think it's positive thoughts throughout when you look back on things.
"We've scored more goals, picked up more points, conceded fewer and I think we've played better. You want to take that forward into next season and try to put things right that maybe haven't gone so well this season and improve upon results in games.
"We want to win even more games and not slip up in the type of the matches where we might have slipped up this season.
"All that considered, it's looking good for next season and let's hope we can be fighting for every trophy that's available to us."
The mood inside the United camp has been buoyed by their thrilling derby victory over champions-elect Manchester City at the Etihad Stadium.
Having fought their way back from two goals down to prevail 3-2, the Red Devils have shown that they are capable of competing with the best in the business.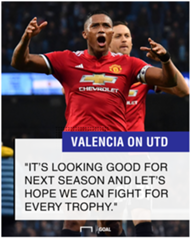 Valencia added: "After the game on Saturday, of course it was a fantastic feeling and, two days later when you come back into training, it still felt brilliant and that great vibe stays with you.
"You carry it with you into the next training sessions which is what we've done.
"I think we've done really well in key games. Those good results and performances only serve to motivate us even more for the rest of this season and especially for next season as well.
"It's like a message that we're sending to ourselves and it has extra motivation for us. It reinforces the fact we have a great squad, a great team and a strong dressing room, ahead of the next season, which will hopefully be a great one for us."
For now, though, United's focus remains locked on ending the 2017-18 campaign on a positive note, with league fixtures against West Brom and Bournemouth to come before attention shifts to an FA Cup semi-final clash with Tottenham at Wembley on April 21.