International Champions Cup
USMNT star Weah excited by future after opening PSG goal account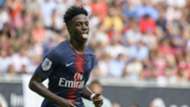 Paris Saint-Germain forward Timothy Weah "can't wait to see what the future has in store" after taking plenty of positives from an International Champions Cup defeat to Bayern Munich that saw him net a first senior goal.
The Ligue 1 champions slipped to a 3-1 reversal against the Bundesliga title holders in their opening ICC fixture on Saturday.
PSG had taken the lead in that encounter, with U.S. national team starlet Weah firing them in front just past the half-hour mark.
That effort was the 18-year-old's first since stepping out of the club's reserve and academy set-ups, with the son of former World Player of the Year George Weah excited about the progress being made in the French capital by himself and a star-studded squad.
PSG were missing their World Cup contingent against Bayern, with Weah telling the club's official website after an outing at the Worthersee Stadion in Austria: "Despite the defeat, we worked very well.
"We had a very young side and to play against a side like Bayern Munich is a great opportunity for us. Now we have to keep on working hard.
"I can't wait to see what the future has in store for us, but I'm sure we're going to win a lot of matches. Coming here and working hard and playing well is a great feeling."
Adrien Rabiot, who has been heavily linked with a move to Barcelona of late, skippered PSG against Bayern, with the 23-year-old midfielder another to have seen signs of encouragement.
He said: "We came here with a very young and inexperienced squad. Lassana [Diarra], Christopher [Nkunku], Gigi [Buffon] and I had the role of guiding the others a little. I'm very happy with the work we've got done here.
"The coach gave us orders to avoid being overrun against a far-more experienced side. We did what he said and we enjoyed a very good first half and showed our quality.
"It was tougher after the break, with the fatigue. But overall, it was a very positive friendly match.
"We need to build on this now. The coach is very happy... the final result is not important. We can be very proud of our young players tonight."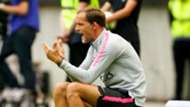 New PSG coach Thomas Tuchel was pleased with the efforts of his side, with the German encouraged by the progress being made following early summer friendlies with Chambly and Sainte-Genevieve.
He said: "It was an incredible performance and I'm very proud of what we produced today.
"I really didn't know what to expect from this match. Our only experienced players on the pitch were Rabiot, Diarra, Nkunku and Buffon; the rest of the team had never played at this level.
"We struggled against weaker opposition in our first two matches, but today the players were superb. It's a very good sign."