A-League
Usain Bolt to the A-League: Central Coast owner says he will be 'annoyed' if FFA don't contribute to signing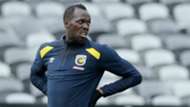 Despite Usain Bolt struggling in his debut for Central Coast Mariners, club owner Mike Charlesworth has made it clear he will be disappointed if Football Federation Australia fail to contribute to his potential signing.
Bolt's highly publicised trial will eventually culminate in the Mariners deciding whether to lock him in to a professional deal, and with Charlesworth to fund the majority of the reported $3 million contract, he is hoping the FFA will stump up approximately $900,000 to get the signing over the line.
While Charlesworth understands the FFA's need to examine the 32-year-old's impact on and off the field first, there will be irritation if the Mariners decide they want to sign Bolt but the governing body fail to commit financially.
"I understand the FFA want to look at [Bolt) closely before investing - we're the same," Charlesworth told The Daily Telegraph.
"But when we sit down with them in the coming months, if we do want to sign him, then I'll be really annoyed if they don't come to the table."
The Jamaican sprint king looked off the pace during his first run out for the Gosford-based club on Friday night - coming off the bench to play 21 minutes against a Central Coast select side.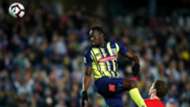 A crowd of almost 10,000 turned up to Central Coast Stadium to see Bolt during in the exhibition match, a fact Charlesworth cited as proof the experiment to woo the eight-time Olympic gold medallist has been a success so far.
"I don't know if anyone could tell me a Central Coast player who has ever sold almost 10,000 tickets before," he said.
"So while this is a risk, it's a calculated risk And, yes, we've made mistakes in the past - we'll make them again. But my philosophy is that if you let two goals in and score - everything is fine."
But will the risk pay off the in the long run?
"Yes, it's an experiment, we know that. But do I think it's going to come off? Yes I do," Charlesworth declared confidently.
Bolt's next scheduled match is a friendly against NSW NPL club Wollongong Wolves at WIN Stadium on October 6.