Transfers
Usain Bolt earns contract offer from Maltese champions Valletta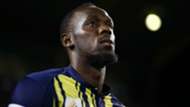 Central Coast Mariners trialist Usain Bolt has a two-year contract offer from Valletta, the Maltese champions have confirmed.
Former sprint king and eight-time Olympic champion Bolt is on trial with Australian side the Mariners in his bid to fulfil his dream of becoming a professional footballer. The Jamaican's agent revealed that he had already received an offer from an unnamed European club following his two-goal haul on Friday.
Bolt scored twice in his first start against Macarthur South West United before the 32-year-old Jamaican's agent Tony Rallis revealed a two-year deal was on the table.
Now Valletta, who were taken over by Abu Dhabi-based Sanban Group in September, want Bolt to spearhead their Champions League aspirations.
Here it is, @usainbolt, the footballer, scores his maiden Mariners goal. What a moment! Don't think limits! ⚡️ #SWSvCCM #CCMFC@FOXFOOTBALL pic.twitter.com/X7zrqmrYCZ

— Central Coast Mariners (@CCMariners) October 12, 2018
"A champion is always welcome and at Valletta FC we believe nothing is impossible," Valletta managing director and CEO Ghasston Slimen told ESPN.
Bolt – who retired from track and field in 2017 – has been training with A-League outfit the Mariners since August after previously spending time training with Bundesliga giants Borussia Dortmund, Mamelodi Sundowns and Stromsgodset.
Central Coast Mariners chief executive Shaun Mielekamp is unsure if the club will try to land Bolt on a permanent deal, saying last week: "We have genuinely treated Usain like we would have any other trialist. He's been training hard with us and he showed weaknesses, but he also showed his strengths and got two goals, so all credit to him," he said.
"Whether it sways the outcome, it's too early to tell. We will now liaise heavily with our sporting director Mike Phelan, who is due back in the country shortly."
Bolt himself was left unhappy after a recent Mariners game after he was picked to take a doping test, much to his surprise.
"How am I going to get a drug test today? I'm not even a professional footballer yet. Seriously," he said on Instagram.
"So I asked the lady, 'Why am I getting drug tested when I haven't signed for a club yet?' and she said they told her I'm an elite athlete so I have to get tested."