United States
U.S. coach Arena vows to get better in Gold Cup with Martinique up next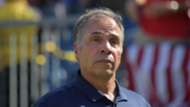 Bruce Arena has never been one to sugarcoat things or mince words, so it shouldn't have come as a surprise when he delivered a blunt assessment of the U.S. national team's performance in last Wednesday's 1-1 draw with Panama. It wasn't good enough, and they would need to get much better if the U.S. was going to have any chance at winning the Gold Cup.
"We didn't play well and I have to accept that responsibility," Arena said ahead of Wednesday's match against Martinique. "We'll get it better on Wednesday."
Arena's willingness to accept some blame for the flat U.S. performance was a refreshing departure from what we grew accustomed to under his predecessor Jurgen Klinsmann, who was generally more inclined to call out players than take the blame himself.
Ochoa's transfer disappoints big time
Arena didn't name any names after the Panama draw, but he made it clear there wasn't much to be happy about, which brings us to Wednesday's match in Tampa against Martinique, a group game that should feature several changes to the U.S. lineup.
One player who should stay in the lineup is Dom Dwyer. He has scored in each of his two U.S. appearances and has done as much as anyone else on the U.S. team to boost his stock in Arena's eyes.
"He's been a good player for us," Arena said of Dwyer. "Dom, as is the case with some other players, it's interesting to work with him and see their qualities. I'm still getting to know him a little bit as a player, but he's done well obviously. His job is to score goals and he's proven that so he's off to a good start."
Arena has played Dwyer as a lone striker in each of the past two matches, but could choose to partner him with Juan Agudelo or Jordan Morris against Martinique.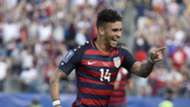 Agudelo and Morris, along with Gyasi Zardes, helped provide some spark in the second half of the opener against Panama and all three are in contention to start Wednesday. Paul Arriola didn't play against Panama, but he is also a player who Arena could turn to after seeing his attack struggle on Saturday.
One player who may have done enough against Panama to earn another start is Kelyn Rowe. The New England Revolution midfielder set up Dwyer's goal and showed real promise on the left wing, though it was also his defensive breakdown that helped lead to Panama's goal.
"Kelyn has to grow and understand how to play the game at this level," Arena said. "But certainly, individually he's got some tools. He's a tricky player, he's skillful player, but there's some other things he's got to get right. It's been a good first couple of weeks for him with the U.S. team."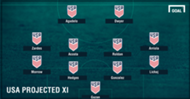 Arena has some decisions to make with his defense as well. He started veterans Matt Besler and Omar Gonzalez against Panama, and though the pair didn't play their best, Arena might be wary of trotting out an inexperienced tandem like Matt Hedges and Matt Miazga against a Martinique attack with the speed to punish mistakes.
The more likely changes to the defense should come at fullback, where Eric Lichaj and Justin Morrow could step in for Graham Zusi and Jorge Villafana, a tandem that struggled to deal with Panama's wingers.
Martinique enters as the clear underdog against the U.S., but its impressive 2-0 win against Nicaragua turned heads, with a speedy attack that could cause the U.S. some problems.
"They played very well, they could have won by five goals in that game," Arena said of Martinique. "They have a couple of good players, certainly a team that we have to respect and we have to go out and beat."
Anything short of a win on Wednesday will put the U.S. on shaky ground in group-stage play, and while the Americans are still favored to reach the knockout rounds, any more dropped points could set up a much tougher road to the Gold Cup final.
First, the U.S. must beat a Martinique squad that will come into the match with some swagger after an impressive Gold Cup opener.
"When you have a team that has a win and leads the group I think they'll come into Wednesday's game with a lot of confidence and perhaps they're saying we get one point out of this we're advancing out of this tournament," Arena said. "I'm sure they're working collectively to have a strong defensive posture against us."