U17 World Cup
Under-17 World Cup: Indian players to sign AIFF contract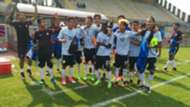 The All India Football Federation (AIFF) are expected to sign the Under-17 Indian players on a long term contract next week, Goal can reveal.
The 21-member squad, which was announced on Thursday who would participate in the Under-17 World Cup, and a few more players are to be handed a contract before the end of this month.
The AIFF would field a team in the I-League from Delhi which would comprise mostly of the Under-17 and a few Under-19 players.
"We want to sign the players before the Under-17 World Cup commences," informed a senior AIFF official to Goal.
The players would be offered between two-to-three year contract in order to continue their development with the Indian team as opposed to letting them join the I-League or Indian Super League (ISL) clubs.
The AIFF are yet to finalise the name of the team from Delhi.