African All Stars
Unai Emery needs to find resurgent Alex Iwobi a spot in Arsenal system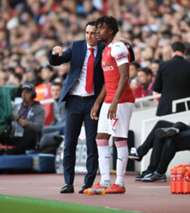 ---
COMMENT    By Seye Omidiora    

Follow on Twitter
---
Managerial changes are often accompanied with improved player performances, and Alex Iwobi's apparent transformation under Unai Emery at Arsenal represents a fine example of this phenomenon.
Having burst onto the scene in 2016, his application in that calendar year was right up there with the best, and it was no surprise he got some recognition as well with a Golden Boy nomination – which was eventually won by Bayern Munich's Renato Sanches.
However, like many of the players at the North London side, he suffered in the final months of Arsene Wenger's reign, with a dip in form often frustrating fans and critics alike.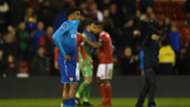 For the attacking midfielder, perhaps it's been his inconsistency that's been a source of frustration in the last year or so; he has the ability to turn on a sixpence to show his obvious quality in one moment, and can offer a polar opposite in another.
In all honesty, his form did nothing but mirror his side's and he, like many of the Arsenal players, needed a change to kick them into shape. The appointment of former Paris Saint-Germain manager Unai Emery is currently offering a new lease of life to a few players who had seemingly stagnated under the departed Frenchman.
Alex Iwobi | 2018-19 Premier League stats
The attacking midfielder's improvement this season under the new head coach can be illustrated in two games this season.
He stood out in the Gunners' 3-2 derby defeat against Chelsea at Stamford Bridge, while his impact off the bench in the weekend's 2-0 victory over Watford was noteworthy.
In the aforementioned defeat in West London, Iwobi showed his class, creativity and intelligent use of the ball.
His link-up with teammates was apparent on the day, and he even chipped in with a goal as well in a crazy first-half against Maurizio Sarri's side that was goal-laden with four strikes.
When his more influential colleagues, like Granit Xhaka, Mesut Ozil and Pierre-Emerick Aubameyang, wilted at the home of the enemy, he stood up to be counted, and that was admirable.
Besides his goal and assist against the Blues, he also created gilt-edged chances for Henrikh Mkhitaryan and Aubameyang, who contrived to miss the opportunities that were almost begging to be put away.
However, it should be pointed out that the playmaker did miss a big chance too, not long after he'd made it 2-2, which was perhaps the only imperfection in an otherwise remarkable display.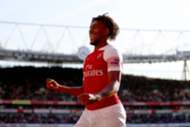 Iwobi's more recent impact, against the Hornets on Saturday, might carry slightly more significance as his contribution actually had a tangible impact on the result and was influential in securing three points for the Gunners.
Before his introduction for Aaron Ramsey, it's safe to say the Londonders were in danger of being the latest victims of the side from Hertfordshire, who seemed to be growing in confidence as the game wore on.
That composure naturally triggered a bit of tetchiness around Emirates Stadium, as the fans also probably sensed an upset in the offing.
Can't believe I'm saying this but Alex Iwobi is a different player this season.

— (@AssistantOzil) September 29, 2018
Arsenal 2-0 Watford | The Talent Has Always Been There! All Iwobi Needed Was Confidence! (Kelechi)https://t.co/vz0U57dMX7#AFC #AFTV pic.twitter.com/1B0FZ2Vw7h

— AFTV (@AFTVMedia) September 29, 2018
Dear Alex Iwobi,

Pls accept my sincere apologies.

U truly are Jay Jay Okocha's nephew

— Torreira Di Pascua (@Arsenal490304) September 29, 2018
The Nigeria international was up and about after his introduction for the ineffective – and sometimes frustrating – Ramsey and it proved to be an inspired substitution by Emery.
It was the playmaker's cross that led to Craig Cathcart putting the ball past Ben Foster to break the deadlock, while his positional awareness, and subsequent basic pass released Alexander Lacazette down the right who then squared for Ozil to finish.
In a game that saw Javi Gracia's men create the better chances (which is amplified by the game's expected goals statistic of 1.44 and 2.05), Emery would've been delighted with the youngster's impact, as Arsenal now extend their run of successive victories to seven, with five coming in the league.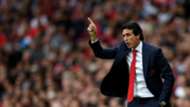 Their run of results, even if performances have been a bit unpredictable, is commendable given the magnitude of Emery's job.
The Spaniard has had to chop and change a bit in his short time with the club, which makes the erratic displays understandable, but they've got to get better in the long run, as incessant average performances tend to catch-up with results after a while.
The coach's constant tweaking – and probably a two-week layoff – has been to Iwobi's detriment.
The new manager's short time has basically been in two phases – with the first phase seeing him play a narrow 4-2-3-1 with several playmakers in the band of three, while the thriving phase – which was introduced when Lacazette replaced the Nigerian at half-time in the Gunners' 3-1 over West Ham United – has seen him deploy Aubameyang as an inside forward on the left with the Frenchman playing as the primary centre-forward.
Alex Iwobi looks a complete different player under Emery, changed the game today with his direct runs and pace and won us the 3 points. Deserves to start the next game ahead of Ramsey, who was poor again. 7 wins out of 7  #AFC #COYG pic.twitter.com/oQ7lQkQ0Ib

— Gunners.com (@Gunnersc0m) September 29, 2018
Iwobi thrives on the left flank (now occupied by Auba) or in the number 10 role (bizarrely occupied by Ramsey) and has had starting opportunities few and far between since returning from his absence.
Given the Welshman's so-far off-kilter performances, and Ozil being somewhat wasted down the right flank, it won't be surprising to see Iwobi introduced for the misfiring Wales international, which would then place the German in his preferred role in the center and the Nigerian utilized on the right.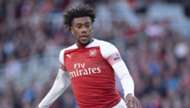 Arsenal don't play with a primary winger anyway, so Iwobi won't be hugging the touchline, but will be positioned in central areas – with Hector Bellerin providing the width down the right.
Also, the Nigerian is arguably Emery's best one-on-one dribbler at the club, and clearly offers something different to an otherwise imbalanced side.
Ostensibly, the form – likewise, the current contract impasse – of Ramsey makes this an easy decision for Emery to make, and you can be sure the simmering groans for Iwobi to get more game-time will gather more dissenting voices if the reborn playmaker still finds himself on the outside looking in the coming weeks.