U17 World Cup
U-17 World Cup: India's Luis Norton's advice to players - Don't lose your head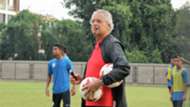 Luis Norton de Matos is confident that every Indian player would give 100 percent for the team in the Under-17 World Cup. India shall face USA in their Group A opener on Friday evening.
"I try to coach on the mental aspect as well. They must enjoy this moment, every inch. They must enjoy every tackle, the people cheering. This entire ambience they must feel. My advice is to come in the game and enjoy. It's important to not lose Concentration, don't lose your head even if there are issues. Just continue with our process of organization.
"I'm sure they will give their 100 percent. In the end, we must be proud. There is a will to win or draw, the will to make Indians proud. I'm very happy and the players are confident. It's important that the players take what they have learnt in training to the game. Each game is a new story. We must try to be competitive. If we keep our discipline, we can make a game."
Norton was also questioned if being an underdog helps India ahead of the Under-17 World Cup opener.
"There is a lot of information available. We played in Mexico against them, Chile and Colombia. They have information about us. I prefer to play a lot of international games.
"When you start the process in USA or Portugal, a seven-year-old has lot of competitions to play in. They come in with 10 years of competition. We do not have this experience. Perhaps that is their strongest point. This is the biggest problem we have as we are not very experienced."