Premier League
Toure taunts Mourinho's Man Utd: Hopefully they'll attack more next season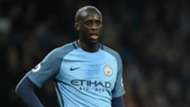 Yaya Toure says Manchester City are now superior to rivals United, and taunted Jose Mourinho's side by saying he hopes they "attack more" next season.
City and United played out a hard-fought goalless draw at the Etihad Stadium on Thursday.
Mourinho's side dropped deeper and deeper as the game wore on but City were unable to find a winner despite bossing possession and raining down a number of shots on David De Gea's goal.
The travelling United support celebrated the team's point at the final whistle, and while Toure congratulated the visitors for a dogged defensive display, he says the performance is a sign of the times.
"It is a big change because in the past United were always able to dominate," he told reporters. "They were always able to control and win games, and seeing the fans celebrating like that it shows that City have come close.
"Of course, the history and achievements of United is much stronger but we are coming. They know now we are difficult to play and they tried to do their best to defend and use the counter-attack.
"To be honest we played well but when you don't win it is difficult to take it."
City are on course to finish above United for the fifth time in the last six seasons, and Toure believes his side deserve to be regarded as top dogs.
"Yes, of course, all the time we finish above them in the season, it shows City are doing very well."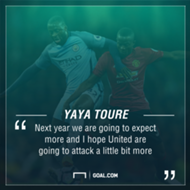 United equalled their longest ever unbeaten run during a single season by securing a point at the Etihad, and are now 24 games without defeat.
Yet the Red Devils spent much of that run in sixth place and have found themselves unable to register a victory when doing so would have put them into the top four.
They will finish in the top four if they win the remainder of their games this season, however, and could yet claim a place in the Champions League by winning the Europa League.
No Silva, no magic for Man City
The club's hierarchy will back Mourinho to improve his squad this summer no matter what, with Antoine Griezmann understood to be a key target.
And while Toure does believe United will be stronger next season, he could not resist a dig by saying he wants to see a bit more adventure in their play.
"For sure," he said when asked about United's potential to improve next season. "United are building something very interesting. We have to be aware of that but I think City are going to be much, much stronger as well.
"Next year we are going to expect more and I hope United are going to attack a little bit more."