Title race is ON! Chelsea risk Premier League collapse after Man Utd shocker
Last Updated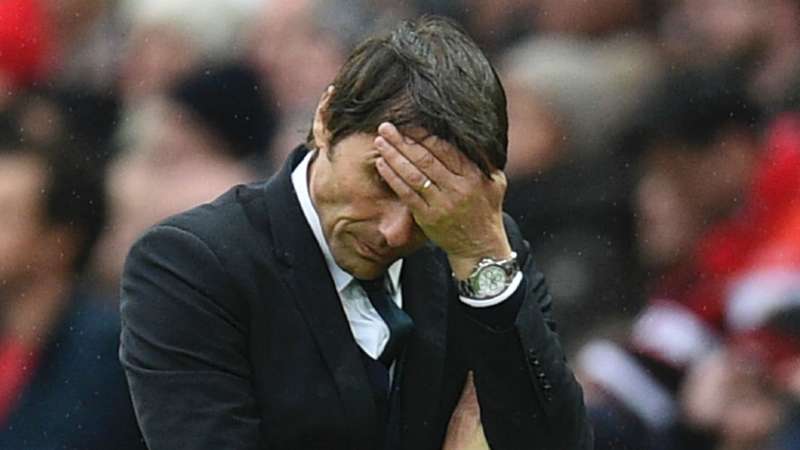 Getty Images
---
COMMENT
---
Chelsea risk throwing away the Premier League title after their former manager Jose Mourinho exposed their weaknesses in a disastrous afternoon for Antonio Conte at Old Trafford.
Conte's side put in their worst performance since they were beaten 3-0 by Arsenal at the Emirates Stadium at the start of the campaign - as Marcus Rashford and Ander Herrera gave United a 2-0 win.
Chelsea remain four points clear of Tottenham at the top of the table and they are the envy of the rest of the league but Conte is now faced with a host of problems to resolve.
Diego Costa is badly out of form and looking like a liability once again as he was lucky not be red carded. Hazard was nullified, having been man-marked by Herrera, prompting the following question; if you stop Hazard, do you stop Chelsea? It appears to be the case for a Chelsea side whose lone forward is playing so badly.
Diego Costa won only 23.1% of his duels and gave away possession more than any other player in the first half of the match. His second half wasn't much better either.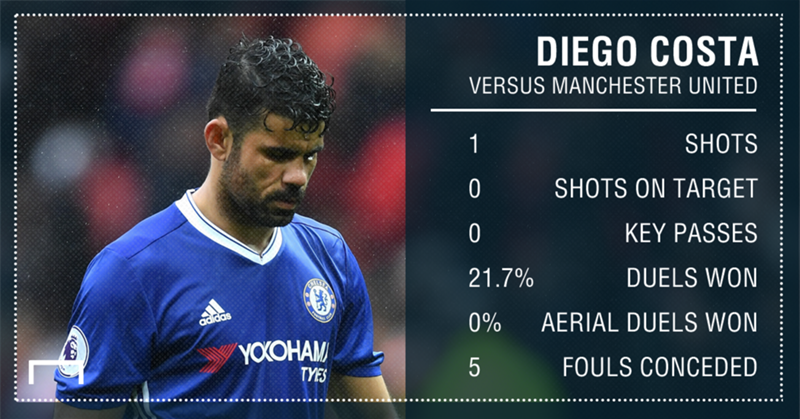 The naturalised Spaniard's form has fallen away since he was offered a triple-your-money move to China in January, but he wasn't the only Chelsea player to disappoint on Sunday.
Pedro had his worst game in months as he managed only 13 touches in the first half and won none of his seven duels. Nemanja Matic, Victor Moses, Cesar Azpilicueta and Kurt Zouma also completed less than 70% of their passes in the first half.
Four Chinese clubs to battle for Diego Costa this summer
Chelsea may have been penalised by a controversial handball call in the build-up to Rashford's opener, but they can have no complaints about the result. They were second best from start to finish. It was so bad that the away side didn't manage a shot on target for the entire 90 minutes.
Conte admitted that his side's poor performance has blown the title race wide open but took the blame on himself. He decided to protect his own players as the pressure mounts.
"We didn't play a good game, and United deserved to win the game because they showed more desire, ambition and motivation," Conte said. "It's very simple, but in this case it is the fault of the coach.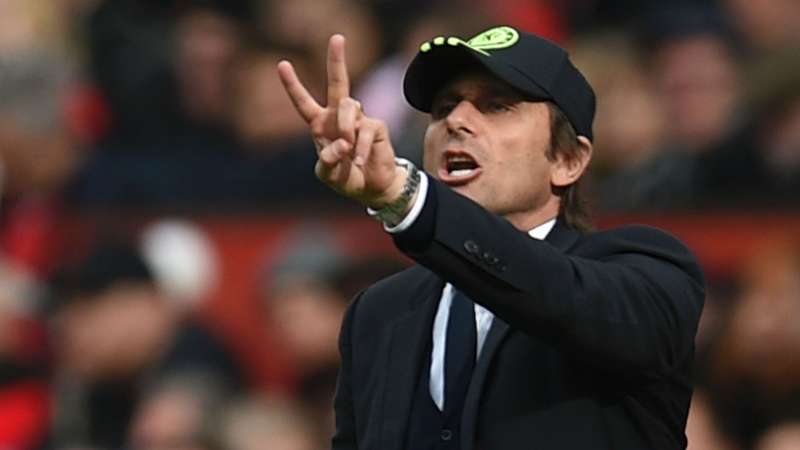 "It means the coach wasn't able to transfer the right concentration, motivation, desire and ambition to win this game. The situation is simple today. We have to think there are six finals from now until the end. The league is open.
"We have a 50 per cent probability of winning the league. We must know this. If we finish top of the table it means we deserve to, otherwise it means another team deserves it."
Thibaut Courtois reportedly sat out the match with an ankle injury which was sustained during the filming of an NBA advert, but it was Marcos Alonso who was more missed in Manchester.
Alonso pulled out of the game during the warm up due to illness and Chelsea's balance was hugely affected. Azpilicueta was moved all over the pitch during the 90 minutes and Moses subbed off as Conte chopped and changed his system and personnel.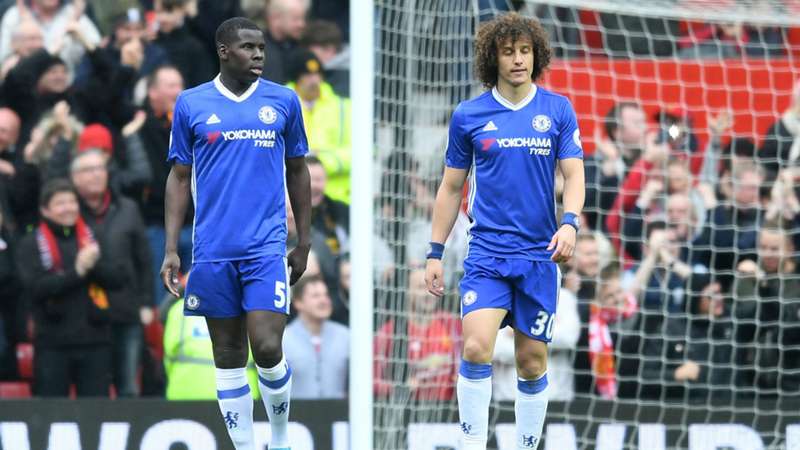 Hazard also missed Alonso's support on the left and Chelsea will need him back as they prepare for an FA Cup semi-final against a red-hot Tottenham side next week.
There is no need to panic yet for Chelsea with six Premier League games remaining. Conte has improved the side immeasurably in his first season at the club, but he faces his biggest test yet now in the run-in with tricky tests to come this month against Southampton and Everton away.
With Chelsea having seen their lead cut from 10 points to four in a matter of weeks, the Premier League title race is well and truly on.