Chelsea
Tiemoue Bakayoko has the potential to become Chelsea's Patrick Vieira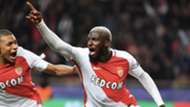 ---
COMMENT
---
Tiemoue Bakayoko has become the second of Monaco's Ligue 1 title-winning side to depart Stade Louis II for England, with his £40 million move to Chelsea having now been confirmed.
The 22-year-old should be regarded as a prime example of what the principality side have tried to achieve with their transfer policy over the last three seasons.
He was bought from Rennes as a raw talent for a fee in the region of €8m – he has left an international valued at around six times that amount.
Ronaldo confirms birth of two sons
His value has not risen exponentially by chance. Over the last 12 months, he was the physical lynchpin of the French champions' midfield, winning a maiden France cap and earning comparisons to Patrick Vieira.
Now his next stop is Stamford Bridge, where he will seek to secure a place alongside fellow Ligue 1 alumnus N'Golo Kante.
The target is to have a similar amount of success as the ex-Caen star, who swept the board in England with regards to Player of the Year prizes in 2016-17.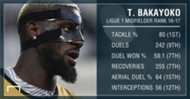 Like his compatriot, he is a player primarily defined by his defensive characteristics. His statistics in this regard were the best all-round of any midfielder in Ligue 1 last term.
There may have been those who were more dominant in certain aspects, but no-one excelled in so many areas.
Chelsea boss Antonio Conte would have been particularly impressed by the player's remarkable tackling success rate, which was the best in France's top flight among midfielders who had attempted at least 40.
He also ranked seventh in recovery and duel success, while his heading ability means that he will offer an aerial prowess that the diminutive Kante does not.
Alexis to Bayern dead over €100m fee
His characteristics mean that he is a like-for-like replacement for Nemanja Matic, albeit one with a slightly more attacking tilt to his game.
Conte has notably tried to make Kante a more offensive player over the course of his year in charge, but he will not need to coach that aspect into Bakayoko, who is a player willing to get forward when the time requires.
True, he does not have the same grace as former Arsenal talisman Vieira, but he is capable with the ball at his feet, finding the net twice in Ligue 1 last term.
 
His most important goal, though, was a header following a free kick against Manchester City that put Monaco through in the round of 16 in the Champions League - the type of effort his new manager will want to see more of.
But he's not yet the finished article. For one, Conte may wish to increase the volume of runs he makes forward, while some concerns over his mentality remain unanswered.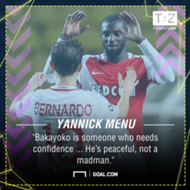 "He's someone who needs confidence," former Rennes youth team coach Yannick Menu told Le Parisien.
"His approach can come across as haughty and he's clearly got a pretentious side but, in fact, he's the opposite.
"He's someone interesting and endearing. He's peaceful, not a madman."
Certainly, he is someone who plays best when he feels at home. It took him nearly 18 months to settle in Monaco, a team in his homeland who played in the same league as he was already used to.
It is unlikely he will be afforded such a long period to settle in London, though he is now clearly a more mature player.
RUMOURS: Chelsea to hijack Manolas deal
If he can overcome this hurdle, though, he has the attributes to become a star.
"His limits are unknown," Menu noted.
At just 22, Conte has signed a player who could be the lynchpin of the Chelsea midfield for years to come.
If he has the same impact at Stamford Bridge as Vieira had in the red part of North London, the Italian will certainly be onto a winner.