England v Brazil
They thought Brazil wouldn't even qualify for the World Cup - Renato Augusto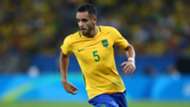 ---
EXCLUSIVE
---
Renato Augusto has become one of the pillars of the current Brazil team. 
The cerebral, creative, passing midfielder began establishing himself as a Selecao regular under former coach Dunga and so it came as little surprise that he would go on to be a regular under Tite, under whom Renato had been named Brazilian Player of the Year as Corinthians romped to the league title in 2015.
Renato came through the ranks at Flamengo as an outright No. 10 and even played as a forward for the Rio giants, but gradually retreated into the central midfield role in which he has starred for the Selecao for the past two years.
---
READ MORE: 
IN STATS: Japan 1-3 Brazil | Neymar moved to tears | Jesus: I still need to book WC slot
---
In an exclusive interview with Chevrolet Brasil Global Tour this week, the 29-year-old opened up on his preferred position and the early low points of the World Cup qualifiers – conceding that at one stage there were genuine concerns Brazil wouldn't even make it to Russia.
"Central midfield is the position that I like to play the most and where I feel more at ease, it's the position where you end up seeing a lot the ball," the Beijing Guoan man said. "There is also a lot of defensive responsibility and I adapted well to that aspect of the game, both at Corinthians and here with Brazil."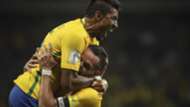 It's an adaptation that came after a difficult period in Renato's career. He emerged as prestigious talent tipped to make it to the very top of the game, but after heading to Germany to join Bayer Leverkusen in just his third year as a pro, injuries struck.
There were times when he feared his career would come to a premature end and after four often frustrating years in Europe, he returned to Brazil with the Timao. His injury woes finally behind him, he became the country's best player but would leave in 2015, admitting he took the riches on offer in Beijing mostly because he could never be certain how far away he was from a career-ending injury.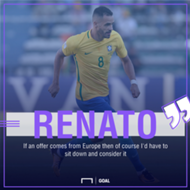 Thankfully, Renato is in the best physical form of his life and, after a hugely impressive 18 months for his country, now refuses to rule out taking another shot at European football.
"It's a very good life in China, the city is great and my wife and I adapted very well. It's a place where I feel happy. But, of course, if something very good comes from Europe, as was the case with Paulinho [who joined Barcelona], then I'd have to sit down and consider it. You never know what could happen." 
Check out the rest of our chat with Renato below:
Brasil Global Tour: Although Tite rotates the captaincy, we notice that you and Miranda are the two players he appears trust the most when he wants to pass on instructions to the team during a match.. Do you feel like a captain even without the armband?
Renato Augusto: The armband is just a symbol. There are several players who can wear it. Nobody is going to change, whether they are wearing it or not. But rotating has been good, because it has divided the responsibility among the group a lot more. I am aware of my responsibility and try to help the team in the best way possible.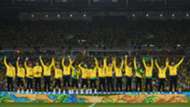 BGT: With the departure of Dunga, it seems that a lot has changed in the national team. The entire mood seems to have brightened. Internally, what has been the biggest difference since the change in coach?
Renato: Tite has a very personal way of leading the group, and that helped a lot, like the way he has told us how to do things, always trying to show why he wants to do them. So, this is what is happening and it has worked out well. I do not know exactly what changed, it is more just his way of managing.
BGT: You became an Olympic champion at Maracana, where you took your first steps in the game. What did that mean to you? And was it difficult to convince your Chinese club to release you?
Renato: The Olympics was remarkable for me, more than special. It was where I started as both a fan and a player – the Maracana had always been practically my second home. We talked a lot with the club and I thanked the Chinese for understanding what it meant to me and agreeing to release me.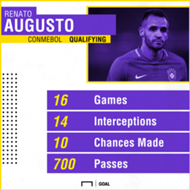 BGT: With Gil no longer in the squad and Paulinho joining Barcelona, you are now the only China-based player regularly in the Brazil squad. Last month, however, Diego Tardelli was recalled. Do you think that the prejudice against players in China is over?
Renato: It's a bit difficult because a lot of people do not follow the league and they do not really know what's going on there. The important thing is to be in top shape physically and maintain your technical level. You have to keep playing well and convince the coach and yourself that you deserve it. A lot of it is keeping a level head.
BGT: What was the most difficult period for you during the World Cup qualifiers? And what was your favourite victory?
Renato: A really difficult moment was the draw at home to Uruguay, followed by another draw against Paraguay. A lot of people thought we would not even qualify for the World Cup. So, that was certainly a difficult time. Beating Ecuador was the best, in their stadium, because it was Tite's first game. We did not know how the team would react on his debut, but it worked out well and became a hugely important step to getting back to winning ways.
BGT: Neymar came third in the race to be named the world's best player last season. Do you think the World Cup can catapult him to the top?
Renato: It will be a very natural thing for him to win the title of the best in the world. He is already one of the best today, and I very much believe that within two, or at most three years, he will be singled out as the best there is. It is good for Brazilian football. He has been improving every year and getting closer and closer.