The unwitting supersub - Martial hoping not to be the next Solskjaer at Man Utd
Anthony Martial is not the first Manchester United player to get stuck with the supersub tag and he won't be the last. The Frenchman has yet to score as a starter in the Premier League this season but has netted four times in seven appearances coming off the bench, so it is easy to see why Jose Mourinho has been happy enough keeping the 21-year-old in reserve so far.
With Marcus Rashford winning further plaudits for his performances in the same left-sided attacking role in which Martial has excelled since arriving at Old Trafford, circumstance has ensured that the former Monaco youngster has been left feeding off scraps in the first three months of the campaign.
But Martial admitted during the international break that he is not entirely happy in the role of substitute, saying that – like any hungry young player – he would much prefer to be starting games regularly.
Martial 4/1 to score last v Newcastle
"It's easier to start the game," Martial told SFR Sport . "When you come off the bench, the other players are warmed up and are completely in the game, whereas you have to get into it straight away. I prefer to start the game, that way I have more time to get myself into the game."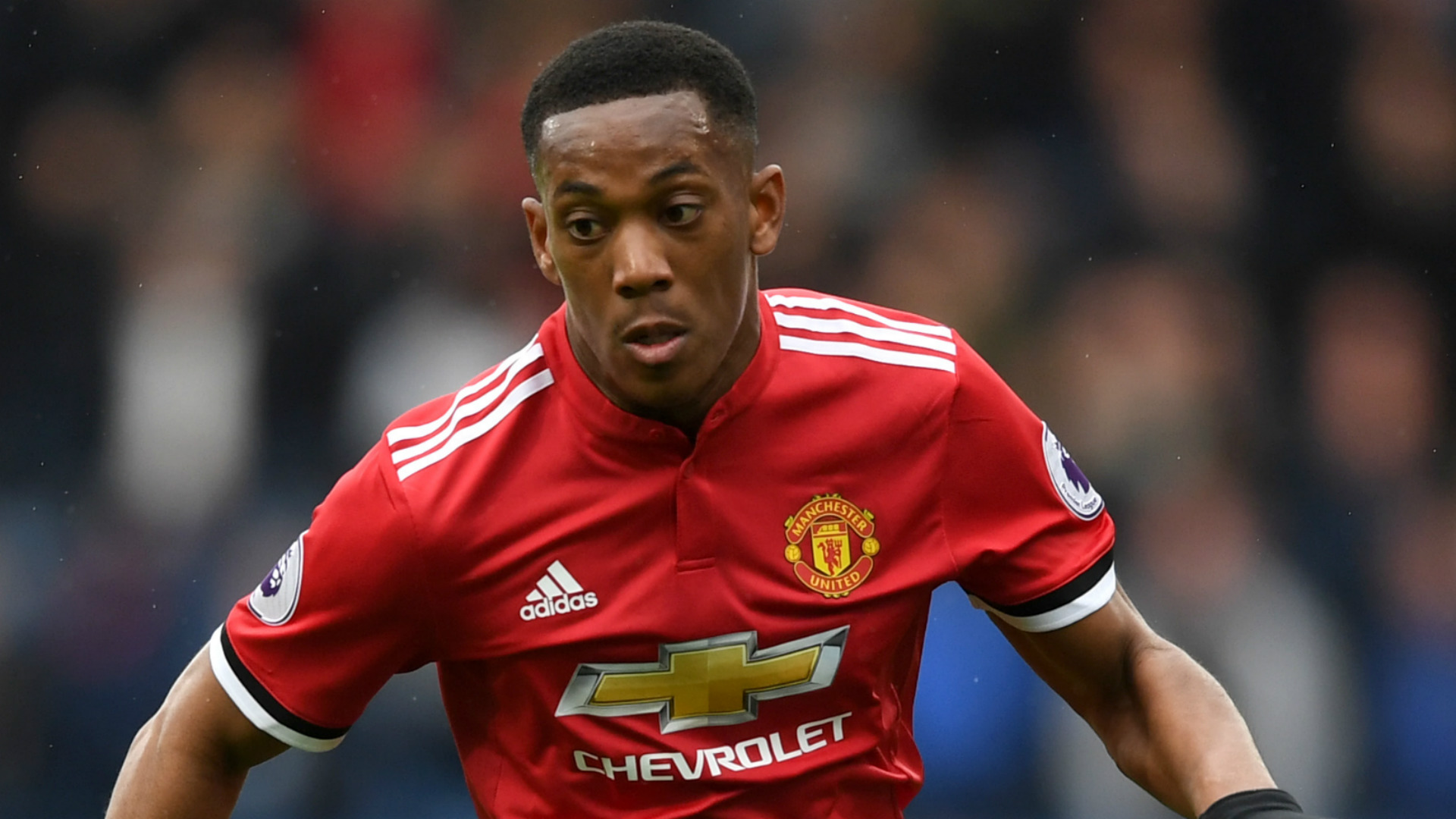 Martial is sure, though, that if he continues to influence games regularly then he will be given more game time by Mourinho in the coming weeks.
"I have faith in my qualities, and I think the manager has confidence in me too. So it's up to me to continue putting in good performances, and if I do that I think I'll play a bit more.
"We all prefer to play even if at United when I come off the bench, I make a difference. I prefer to start games and show what I'm capable of. When you score and you're a forward, you're happy. It's going well as even though I'm a substitute, I play often."
Things could get more complicated for Martial though, with Zlatan Ibrahimovic's return from injury further congesting United's attacking stocks. While the Swede is not a direct competitor for a position, his availability could result in fewer chances for Rashford to play in the central striking role and thus leave the young England star going up against Martial for a starting spot even when it comes to less-meaningful domestic cup fixtures.
The option of using both Martial and Rashford at the same time is one which Mourinho has rarely exercised. Louis van Gaal started the pair together in 15 of the final 18 games of his United reign, but his successor has gone with them both only 11 times in his 82 matches in charge. His instinct is clearly that his side is better starting one or the other and that has brought about a battle for a single shirt.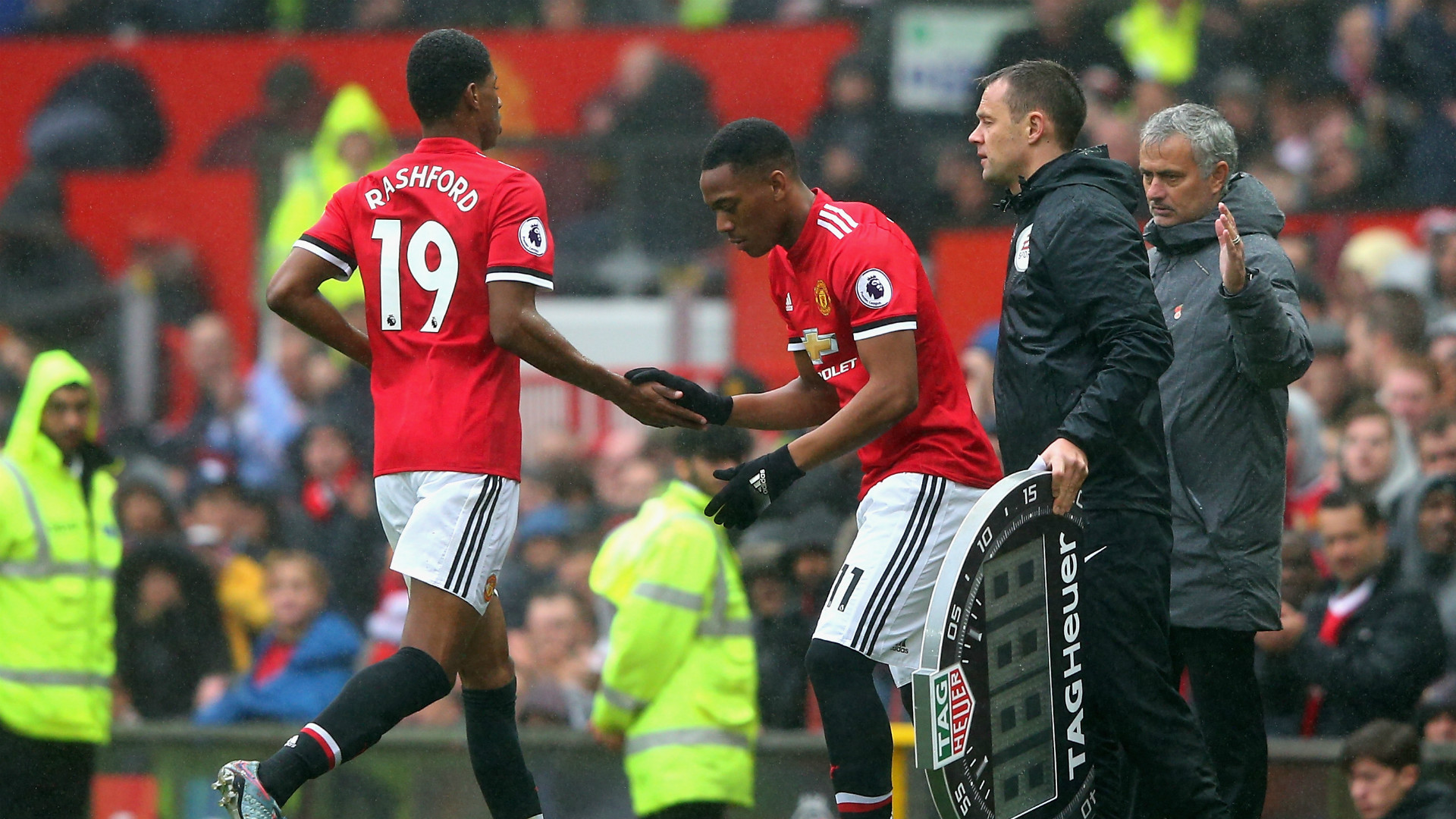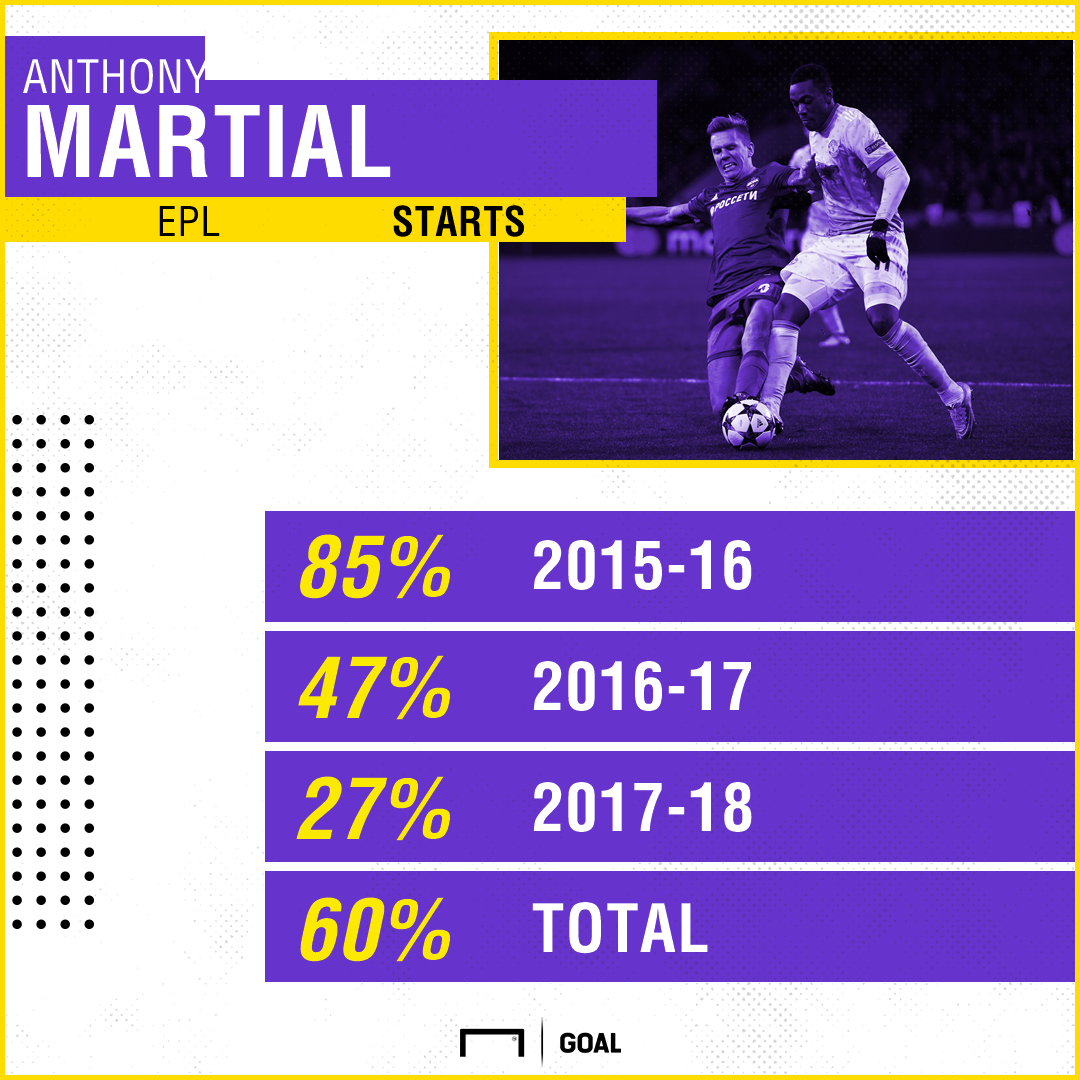 Martial is at least seeing increased exposure to the first team compared to some stages of last season as he struggled to leave a lasting impression on Mourinho during the Portuguese boss' first term in charge, playing in only 26 of 38 league games.
"The same way I know the players much better now, the players should know me much better," said Mourinho in April. "Do I think Anthony is a player with great potential? Yes, I think. Do I think he can play successfully for me? Yes, I think. But he needs to give me things that I like."
Clearly, Martial has now gone some way to placating Mourinho since the Frenchman has played in 16 of the last 17 fixtures, even if half of them have been as a substitute. But it is likely to take something extra special to win a regular jersey considering the progress of Rashford.
Many United attackers have had the same problem over the years. Ole Gunnar Solskjaer, of course, was the most famous of them all, netting a club-record 29 of his 126 United goals as a substitute. But the Norwegian always took a pragmatic view of his infrequent starts under Sir Alex Ferguson.
"I've never felt let down by anyone being on the bench, I've just always wanted to prove myself in the minutes I've been on the pitch be it from the start or coming on as a sub," he explained to Setanta shortly before his retirement in 2007. "But the way we play football we have the ball more or less the whole game, we have the majority of possession, so whoever comes on you are fresh and the others have been running after the ball for a while."
In reality, Solskjaer actually started far more often than he came off the bench, but he sits behind only Ryan Giggs for substitute appearances in the club's history with 150. And although he is cherished by United fans, his stop-start involvement at Old Trafford is not a career path Martial will be looking to emulate.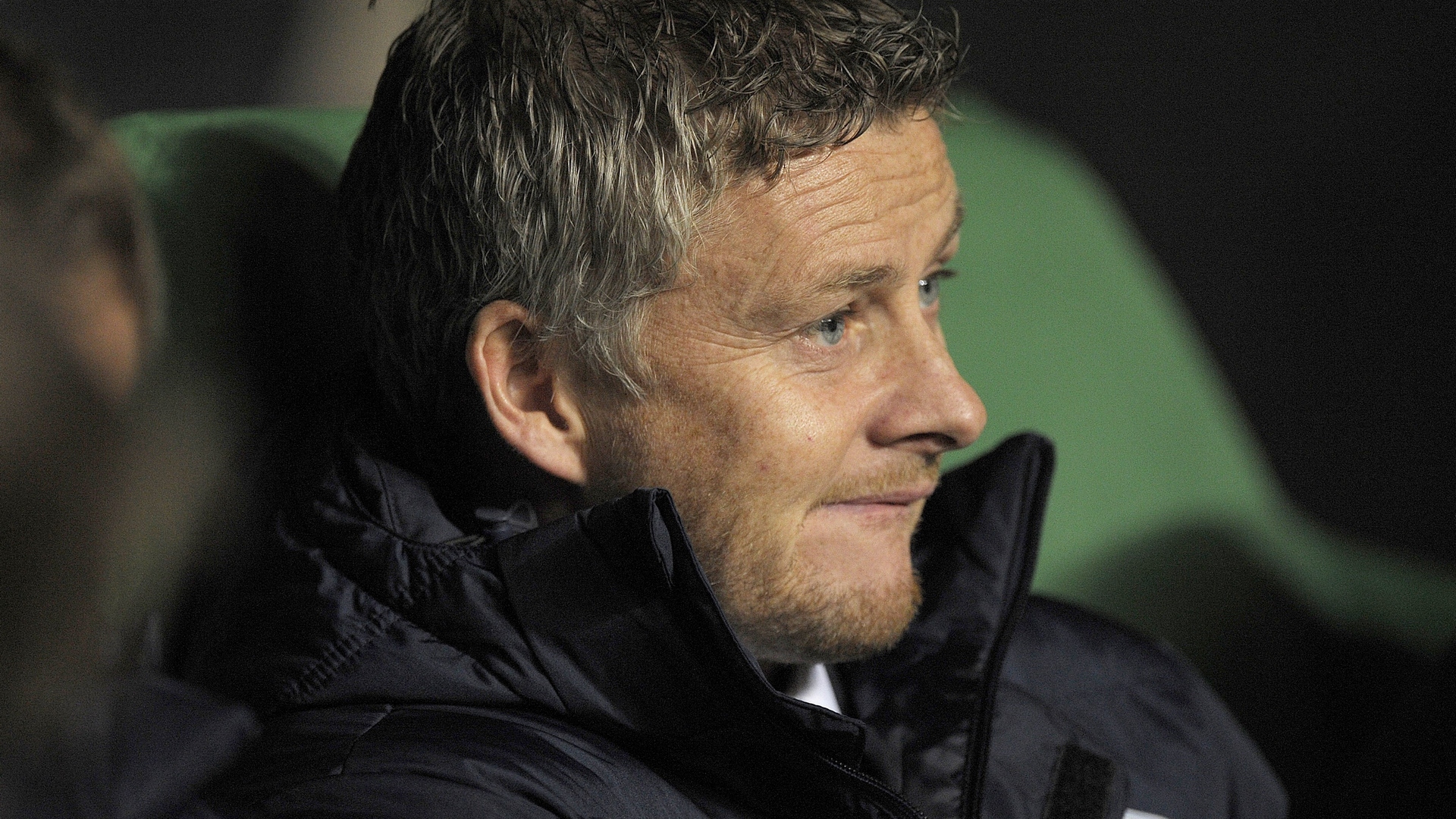 Michael Owen was another perennial United substitute after his arrival in 2009, with 33 of his 51 appearances for the club coming as a replacement. But the ex-England striker says that Martial's current role can often make a player more likely to shine.
"I think it's far easier to make a big impression coming off the bench," the BT Sport pundit tells  Goal . "If you start a game you're starting as equal to everybody else, and to then be the best player on the pitch you need to have something pretty special about you.
"If you come on for 20 minutes at the end of the game in theory you've got a massive advantage over everybody, and you should have a positive influence on the game. So I'm always sceptical when people come on as a substitute and they do really well and then everyone goes overboard saying they should be starting over the time.
"My situation was a bit different as I was coming towards the end of my career and I knew when going there that there was Wayne Rooney, Dimitar Berbatov and myself as a third striker. I knew what was happening right from the outset so I never felt the need to go and ask the manager.
"Talking Martial specifically, I think he's obviously a very good player. He started his career at Manchester United very well and then just really went cold for a good while. But I think this season he's picked up again and is looking like a Manchester United player. Yes he doesn't get the minutes that he wants but he has been far more involved this season than he was in patches last season, so I think he's growing back into an important squad member."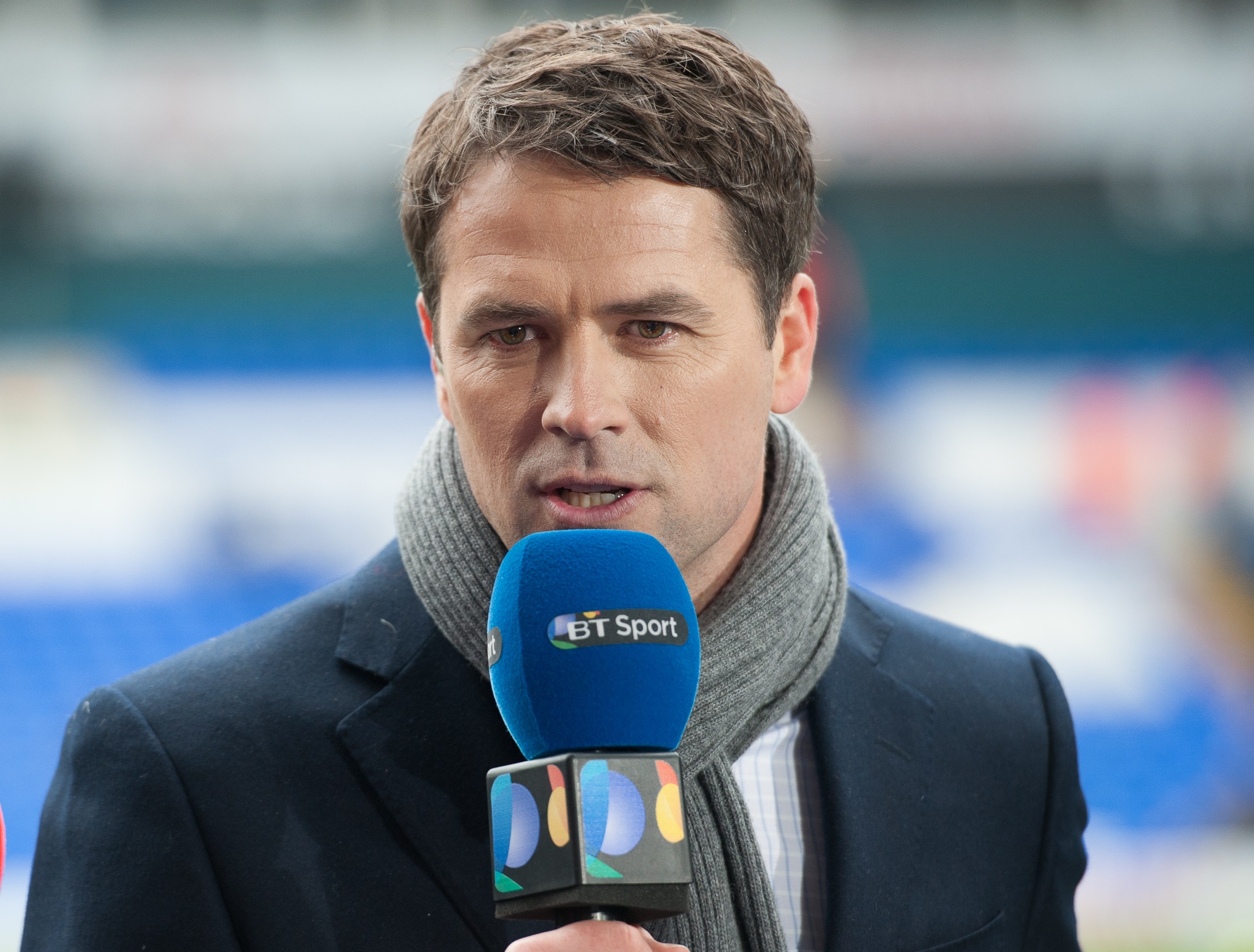 But for now it would appear as though Martial will continue to play second fiddle despite having again impressed during the international break as France drew 2-2 with Germany, teeing up Alexandre Lacazette with a delicious piece of forward play. With United set to face Newcastle United at Old Trafford on Saturday, Rashford again looks favourite to start on the left of attack.
And Owen believes the constant battle to win a place ahead of Rashford is likely to remain a difficulty for Martial.
"It is, and Rashford's obviously a player that you simply can't leave out for too many minutes as he's doing so well," he adds. "As everyone knows, there are so many games with the Champions League and cup competitions kicking in again soon and Premier League over Christmas, everybody will get games. However if everybody is fit it makes it more difficult for the manager.
"But this is just the normal quirk that you've got. You want enough quality in depth but if you do that and everyone stays fit you've got a job managing everybody and trying to get enough minutes into them. So I suppose you can't have it both ways, and sometimes the odd injury to the odd player can give the manager a bit of a breather because he can play certain players that maybe wouldn't have played otherwise."
Is that enough for Martial though? For now he retains the belief that continued good form will eventually see him given the chance to start more often than not, but two into one doesn't go and that means something has to give.
In the meantime he is Manchester United's latest supersub. It is a role which can make you an Old Trafford hero, but the likes of Solskjaer are the exception rather than the rule and Martial is desperate to shake off the tag. If he stays in the job for too long, he may well look elsewhere for more regular employment.
Watch Manchester United v Newcastle United on BT Sport 1 on Saturday from 5pm. BT Sport is where the best go head-to-head in the Premier League, UEFA Champions League, UEFA Europa League and Emirates FA Cup. For more info visit btsport.com