Atlético Madrid
The story of how Simeone was desperate to join Real Madrid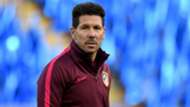 ---
ANALYSIS
---
He is the greatest symbol in Atletico's modern-day history, but there was a period when Diego Simeone was desperate to join Real Madrid.
Simeone lauds Atleti ahead of Madrid match
During his time at Sevilla, Simeone was tracked by Los Blancos and speculation over a move to the Santiago Bernabeu intensified ahead of a meeting between the two teams in 1994.
In the build-up to that match, the midfielder was asked in a press conference if he was frustrated that Madrid's interest had not been backed up with a bid and said: "I'm a professional and if I'm not in Real Madrid's plans, I will stay here and that's that."
But he added: "I will tell you that, if I leave Sevilla, it will only be to join Real Madrid. No other team."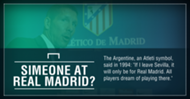 The former Argentina international was then asked why he was attracted to Real and replied: "Because Madrid have, I don't know, something special. All of the players in the world, and whoever says otherwise is a hypocrite, dream of wearing the white shirt of Madrid. Of course I would like to, but if it cannot be, then bad luck."
Isco: Atletico are desperate to beat Madrid
Simeone's international team-mate Fernando Redondo was a Madrid player at the time and the current Atletico coach was also asked if he was envious of his fellow Argentine.
"No," he said. "He's my friend and, as well as my compatriot, he's my team-mate in the national team. I congratulate him."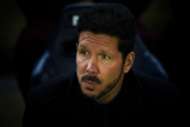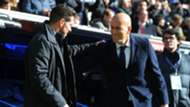 As it turned out, Simeone did move to Madrid in the summer of 1994 - but to Atletico and not to Real. The Argentine spent three seasons at the Vicente Calderon, before returning for a second spell as a player between 2003 and 2005.
Bale out of Champions League semi-finals
He then came back again as coach at the end of 2011 to transform the club's fortunes on the pitch and made Atletico competitive in the Madrid derby as well, beating Real in the final of the Copa del Rey in 2013, in the Spanish Supercopa the following year and on several occasions in La Liga.
These days, the rivalry with Real is so intense that Simeone admitted he would not contemplate coaching Madrid. "I wouldn't do it, that's logical," he said recently. "It's a question of feelings."
Against Madrid, Simeone has suffered his two lowest points as Atletico boss, losing the Champions League finals in 2014 and 2016 to Los Blancos. And on Tuesday, he faces the team he once wanted to join - this time in the semi-finals of the European club competition - with very different feelings about the famous white shirt nowadays.