Premier League
The stats that prove Lacazette should start up front for Arsenal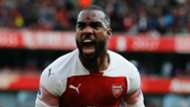 Arsenal smashed their transfer record to sign Alexandre Lacazette last summer. The 27-year-old is now locked in a battle with fellow frontman Pierre-Emerick Aubameyang for a place in the Gunners' starting XI, with head coach Unai Emery hinting that he's unlikely to pair the duo together anytime soon.
"At the moment, no," said Emery when asked about the two starting as a pair.
"At the moment, I think we need to have the control with the possession, with the positioning on the pitch, with more players inside."
When Lacazette came on as a second-half substitute against West Ham, he looked like a player with a point to prove. He managed to put his body in between the ball and the defender to guide the ball into the net, albeit with a major deflection off a West Ham player. His ability to hold off defenders, create space for other attackers in the final third and tendency to finish well when given opportunities makes him a natural go-to man in the Arsenal team.
"These two [Aubameyang and Lacazette] seem desperate to play with one another," former Arsenal defender Martin Keown told the Daily Mail .
"When Lacazette plays, Aubameyang comes to life. There is undoubtedly a connection between them. When Lacazette came on against West Ham, it gave Arsenal a focal point. Everything stuck and without him, Arsenal lacked a target man. 
"It may be that Unai Emery has one team for Arsenal's home games and another for when they play away."
Lacazette is one of only 12 players to have scored 100 or more goals across the top five European leagues since August 2013. The other names on that list include Lionel Messi, Cristiano Ronaldo, Luis Suarez and Robert Lewandowski, while Arsenal's very own Aubameyang sits one place above his Gunners team-mate with a better minutes-per-goal ratio.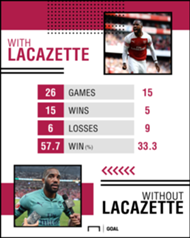 Although he and Aubameyang are yet to start a league game together this season, they did show signs in the last campaign of building a partnership, with the Gabon international assisting two of Lacazette's 14 Premier League goals, against Newcastle and West Ham.
Arsenal also average more goals per game with Lacazette starting in the Premier League than without him, while they also have a much higher win percentage. It's clear that the Frenchman's movement makes him a tricky customer for opposing defences but Emery's insistence on playing 4-2-3-1 has left the former Lyon ace as the player he can afford to leave out.
Reports in France earlier in the week suggested that the 27-year-old could look to leave Arsenal if his lack of game time continues. After being snubbed for a place in France's World Cup-winning squad, one could understand why he would look elsewhere if the situation worsens, but it's evident from the aforementioned figures that Emery needs to find a solution to fit him into his team one way or another.