Cristiano Ronaldo
'The guy is a genius' - Roy Keane lauds Ronaldo as all-time great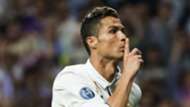 Roy Keane has heaped praise on his former Manchester United team-mate Cristiano Ronaldo, calling the Real Madrid star "one of the greatest players ever to play this game".
Ronaldo leads CL Team of the Quarter-finals
Ronaldo has led Madrid back to the Champions League semi-finals, scoring five times over both legs of a 6-3 aggregate win against Bayern Munich.
The Portuguese notched a hat-trick in the quarter-final second leg on Tuesday, becoming the first player in the competition's history to reach 100 goals.
"The guy is a genius, it's a simple as that," Keane said on ITV. "You are talking about one of the greatest players ever to play this game. He is a joy to watch."
It's been another prolific campaign for Ronaldo, who has recorded 31 goals and 11 assists in all competitions for Los Blancos.
He already has helped the club claim the UEFA Super Cup and Club World Cup this term, and Madrid also find themselves sitting atop La Liga with seven matches remaining.
"We keep talking about how hard it is to score goals," Keane added. "You look at his stats every season... the goals, the assists — the guy is a genius."