Leopards
The curse at AFC Leopards' Den and the coaches conundrum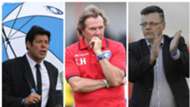 The revolving door of coaches at All Footballers' Confederation Leopards Sports Club (AFC Leopards) is poised to welcome its new guest in the 56-year old Romanian tactician Dorian Marin, who takes over from Stewart Hall.
Hall, a widely travelled Briton has lived in this part of the world long enough, earning respect and stick in equal measure. Stick for not saying at one particular work station, and respect for being a master tactician with acumen of winning titles.
And depending on the side you choose to look at it, one can argue points for or against. However, in choosing to part ways with the Briton, one thing is certain: AFC Leopards fraternity have not only lost a good man but a great coach too, who wholly loves the game and had the interest of Ingwe at heart.
Mang'oli: Hall exit blow to youngsters at AFC Leopards
Sample how his captain Bernard Mang'oli bemoaned his departure: "We have been experiencing changes in the technical bench regularly, and coaches initiate projects which they do not finish. It is something that affects the team, and it is my hope that in the near future all these will stop."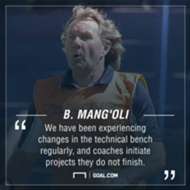 In so choosing to turn his back on a club he joined barely eight months ago, the soft spoken man must have seen that the end was nigh. In training, he may have tried his best to sell his football philosophy to players, who were either not willing to learn or took too long to grasp the concepts. This bred frustration. Hear him lament: "We need to get it right; we do not have the right calibre of players to play for such a big club.
"Most of them are young and inexperienced," the coach, in one of his emotional outbursts said when it became evident that his charges were not reading from his script.
Then came the infamous 3-0 drubbing in the hands of their arch rivals Gor Mahia, and he went ballistic terming his charges "scared rabbits". "As a coach I've never been beaten by three goals in my whole career so I don't like the feeling. That was a very very poor performance.
"If you can't pass the ball ten yards towards your players and you don't win the 50-50s in the headers then you got a big problem. They (Gor Mahia) won all the 50-50s, they won all the headers that mattered, the passing were better than us they were brighter and sharper than us. We were terrible; we were terrible, there is no excuse for that.
His rant pointed to a man, who had become jittery and perhaps felt that the playing unit was not pulling its weight, while the office was hands-off. Equally disappointing is that he exits the stage without fulfilling the mission which had lured him to our shores - win Ingwe a first league title in 19 years.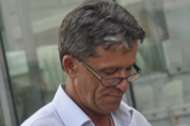 NEW MAN AT THE DEN...Romanian Dorian Marin
His premature exit after 13 league games has left the Leopard scarred at the lower half of the log at position 12 from four wins, three draws and six losses – leaving them on 15 points, 13 shy of joint leaders Gor Mahia and Tusker. And with that, it's highly likely that the now too common false hope, 'we'll be champions next season' will stretch to two decades.
Granted, no one can begrudge Hall after all. The Ingwe nation has traditionally been a house in mayhem. From infight between officials and renegade camps, player indiscipline, fans apathy, interference from political leaders - Leopards problems seem to run deep that even the most thick-skinned of coaches wouldn't survive.
From the era of Alex Ole Magelo, Allan Kasavuli, Mathew Opwora, and now Dan Mule, the Den has never known peace.
Myopic views of the club belonging to Luhyas have been peddled around loud enough though to serve selfish political ends and the genuine fans need to be brave enough to institute far reaching changes.
AFC Leopards players gutted with Stewart Hall exit
From the time of Dutchman Jan Koops, when it  all looked promising in 2012, to Belgian Luc Eymael, to the catastrophic reign of Pieter De Jongh and now Stewart Hall, it has been a familiar tale of good coaches throwing in the towel, while others being forced out through unorthodox means.
Meanwhile, the revolving door keeps letting them in and out leading to the coaching conundrum.
To turn a new chapter, the true fans, guided by the club's motto: "Ours Forever", must rise up and de-chain the club from the stranglehold of dark forces, or else, it risk sinking further - even to relegation.