Newcastle United v Tottenham Hotspur
'That is just pathetic' - Shelvey blasted by Newcastle legend Shearer over Alli stamp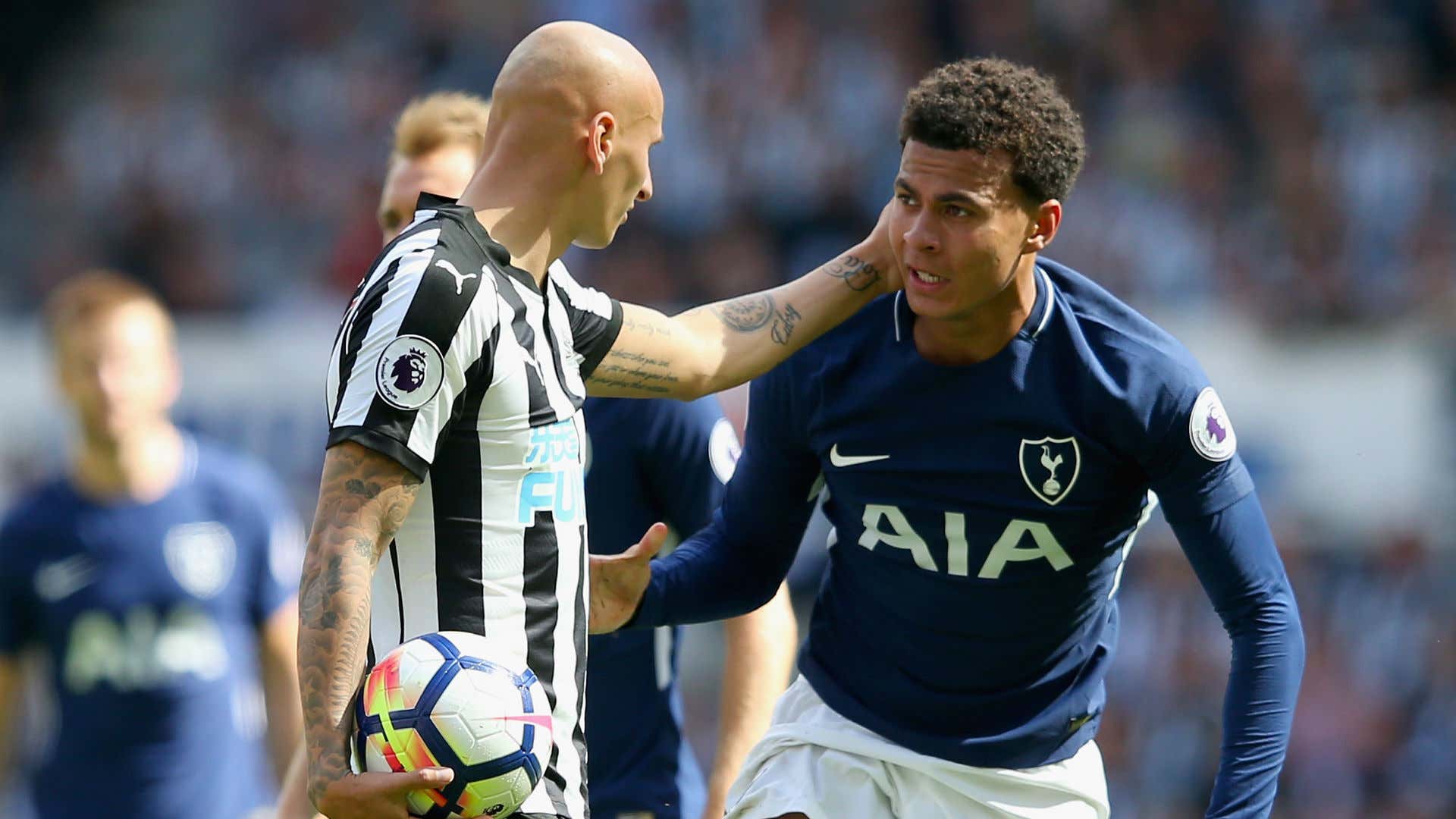 Jonjo Shelvey was slammed by Newcastle United legend Alan Shearer after receiving a straight red card for stamping on Tottenham star Dele Alli.
The Toon midfielder was given his marching orders in the second half of the Premier League clash on Sunday after leaving one on Alli, causing widespread confusion over his bizarre decision.
Spurs to win the Champions League 25/1
To make matters worse, Newcastle had already lost two players — Paul Dummett and Florian Lejeune — to injuries before Shelvey's moment of madness.
And Newcastle icon Shearer certainly didn't mince his words, taking to Twitter to label Shelvey's stamp as "pathetic."
That is just pathetic Jonjo Shelvey#NEWTOT

— Alan Shearer (@alanshearer) August 13, 2017
Shearer wasn't the only one baffled by Shelvey's distasteful action, with former Tottenham and England striker Gary Lineker also blasting the stamp.
Complete and utter idiocy from Jonjo Shelvey.

— Gary Lineker (@GaryLineker) August 13, 2017
Shelvey holds his head in his hands: "I can't believe it! I thought you were allowed to stamp on rival players under the nose of the ref."

— Darren Lewis (@MirrorDarren) August 13, 2017
Very, very strong argument for Jonjo Shelvey being the most brainless player the Prem has ever seen.

— Alex Shaw (@AlexShawESPN) August 13, 2017
Shelvey has just cost Newcastle this game crazy what was he thinking

— Sean Running (@seanrunning72) August 13, 2017
Shelvey deserved a red for stupidity, let alone the offence. Ref standing right there.

— Henry Winter (@henrywinter) August 13, 2017
Jonjo Shelvey got crazy talent but his ill-discipline it's just nuts

— CH!BZ(@chib_) August 13, 2017
Really like Shelvey as a player but he plays on the edge too much at times: gave the ref a decision to make. Totally unnecessary.

— Keith Downie (@SkySports_Keith) August 13, 2017
How can Shelvey argue with the red card? Knew what he was doing! Trying to play innocent. Well done ref

— John Arne Riise (@JARiiseOfficial) August 13, 2017
Shelvey became the first Newcastle player since Shearer, funnily enough, to be sent off on the opening day of a new Premier League season for the club.
1999-00 - Shelvey is the first Newcastle player to be sent off at St James' Park in the opening game of a PL season since Alan Shearer. Red.

— OptaJoe (@OptaJoe) August 13, 2017
Oh, Jonjo...