Surprise! Messi joined on honeymoon by Barcelona team-mate and close friend Suarez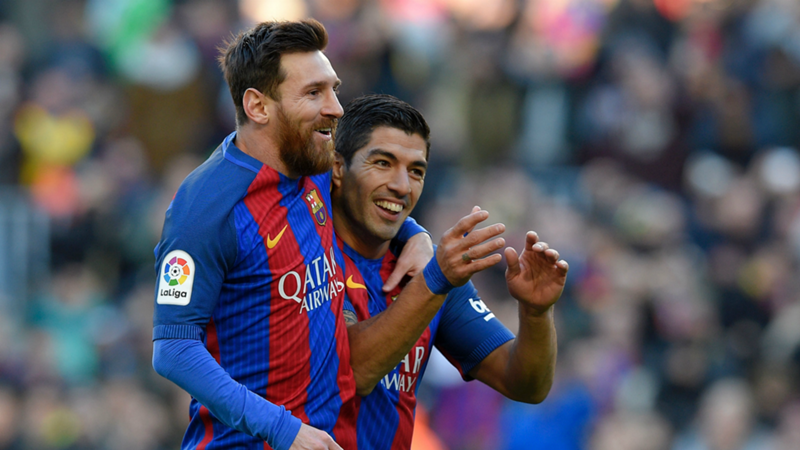 Getty
Lionel Messi received a surprise visit from Barcelona team-mate and close pal Luis Suarez during his honeymoon in the Caribbean.
Messi's special wedding wine revealed
Messi, 30, recently tied the knot with childhood sweetheart Antonella Roccuzzo and the pair have since been soaking up the sun, sea and the sand in Antigua.
The newlyweds took their two sons, Thiago, 4, and Mateo, 1, with them but they have now been joined by a few more of their loved ones.
Messi and wife Antonella are very close with Suarez and his partner, Sofia Balbi, with the four regularly spotted in each other's company.
And the Argentina star revealed on Saturday that Suarez has flown out along with his wife and two children, Delfina, 6, and Benjamin, 3, to join them on their holiday.
Messi uploaded a picture on his Instagram account of the two families enjoying themselves with the simple message: "Surprise visit."
The Rosario-born superstar put smiles on many faces after it was revealed that he and his wife donated leftover food and drink from their plush wedding to charity.
Suarez joined fellow Barcelona colleagues Neymar and Gerard Pique, as well as the likes of Sergio Aguero and Cesc Fabregas, in being present at what was dubbed as "The Wedding of the Century."
Messi is also due to officially sign a new contract extension at Barcelona once he returns from his honeymoon.