Ligue 1
Super Mario's World: A goal, an assist and booked for swearing - just another typical week in Ligue 1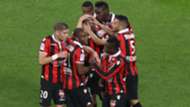 Mario Balotelli could be heading back to the Champions League next season. The Italian was on target as Nice defeated Bordeaux 2-1 on Sunday night, a victory that almost guarantees Lucien Favre's side will finish in France's top three this term. Now they just need to persuade the striker to stay with them.
Life on the Cote d'Azur has been complicated in recent times by a plague of injuries, including serious knee problems for key players Wylan Cyprien and Alassane Plea. Much is, therefore, expected of the Italy international in the interim and on Sunday he held his nerve when it may have wavered for others.
Nice trailed in-form Bordeaux 1-0 at home, having not been beaten at the Allianz Riviera all season in Ligue 1 previously. When Arnaud Souquet was awarded a dubious penalty, it was up to Balotelli to transform it. Of course, he did, despite visiting goalkeeper Cedric Carrasso guessing the right way. But such was the pace and accuracy of the kick, there was never any doubt it was destined for the net.
Forgoing the opportunity to celebrate, Balotelli quickly gathered the ball and trotted back to the centre circle. A matter of minutes later, he teed up Valentin Eysseric to score from the edge of the box and secure three points that mean Nice are still within sight of Paris Saint-Germain and leaders Monaco, both of whom have a game in hand over them due to their presence in the Coupe de la Ligue final on Saturday.
Balotelli now has 11 Ligue 1 goals for the season, all of which have come at home.
He got up for game day looking in a confident mood, as he posted his now customary selfie on Instagram before the encounter with Bordeaux. Indeed, it seemed that he had something of a premonition that Nice would pick up the points as he also posted a picture of the team celebrating together.
A post shared by Mario Balotelli (@mb459) on Apr 1, 2017 at 3:05am PDT
A post shared by Mario Balotelli🇮🇹 (@mb459) on Apr 2, 2017 at 1:24am PDT
It's actually been quite a quiet spell for the 26-year-old on social media, perhaps preoccupied with considering his next move. Napoli are among the clubs apparently ready to gamble on a summer move for the attacker, who said last month that he "feels very good" in Nice.
Certainly, his rapport with head coach Favre appears to be positive. Although he was greeted by the Swiss coolly when he arrived, with the boss concerned about the forward's defensive work ethic, the pair seem to have come to a professional understanding.
Favre spoke about controlling Balotelli in Nice Matin this week and explained that it is "not difficult" to do.
"It's not difficult if you have respect for Mario and Mario has it for the others," he said.
"He trains well - you can't reproach him for that. I ask him to do more tracking back, to win back possession, but I do it without shouting."
The former Borussia Monchengladbach boss would no doubt like the striker to take the lead from his cat when it comes to chasing the ball, with Balotelli teasing it using a laser pointer last week.
A post shared by Mario Balotelli (@mb459) on Mar 24, 2017 at 1:43pm PDT
Mario has never been someone to put all his energy into the defensive side of the game, though, and prefers to make sure he looks good at all times away from the field.
Nice could move up to second in the table on Friday, when they open Ligue 1 Matchday 32 with a trip to Lille – a side that have a cup match against Monaco in midweek. As a result, they should feel quietly confident about earning a positive result at Stade Pierre-Mauroy, though main man Balotelli is still yet to score away from home in the league – a duck he would surely love to break.