Kaizer Chiefs
Steve Komphela assesses Kaizer Chiefs squad and need for a striker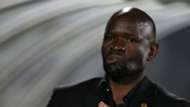 Kaizer Chiefs coach Steve Komphela admits they are finding it hard to get the right player that will make them tick after turning away two Cameroonian trialists recently.
"I don't know the number of strikers we have had here to be screened. A recommendation is a recommendation and if you get a player who is highly recommended it is also important to have a look," Komphela told the media.
The former Free State Stars coach has gone through no less than 10 strikers in the last few weeks with no avail, with none of them good enough to earn a contract.
"I am sure that we have gone past 10 strikers, it's just that we don't get the candidates we are looking for.
"We do have contacts in South America, if you want to go to West Africa we do have, in Europe we do have people who we talk to. Maybe the only thing is that we don't point it out but there are plenty of people we deal with," Komphela said.
With the January transfer window two months away, Komphela hinted they may strengthen in the aftermath of the injuries they have to key personnel.
"We need to monitor the ones that we have now, who we are getting back from injury and based on that we will extend our thinking.
"And if we can't get anyone, it also says start thinking again, because we are sitting on a squad of 30 to 32 players and unfortunately about eight of those are sitting on injuries.
"If it extends beyond January and we feel we can do something, and there is a player who is available it only makes sense," Komphela said.
The under fire coach calls on his charges to come good and get the necessary results to ease the outcry from their supporters who are calling for his head.
"You can't imagine a coach thinking otherwise about this team. There is no coach who will ever doubt his team, but if you don't get results these kind of doubts will always come and at the back of results there will never be doubts," Komphela said.