Transfers
Spurs will lose Kane if they don't win something this year – Sherwood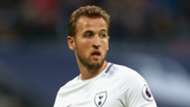 Former Tottenham manager Tim Sherwood claims that the club will lose star striker Harry Kane unless they can win a trophy this season.
Sherwood replaced Andre Villas-Boas as Spurs boss in the 2013-14 Premier League season, giving Kane his first Premier League start at White Hart Lane. England international Kane has been tipped with a move away from Tottenham, with Manchester United, Barcelona and Real Madrid all reported to be interested.
The 24-year-old has scored 103 goals in 171 games for the club, but has yet to win a trophy with Spurs. Sherwood believes that a lack of trophies could see Kane leave next summer, with his "head turned" by more successful teams.
"There's only so much loyalty someone can show," Sherwood told Sky Sports.
"Tottenham have been a great club for Harry and he's been paying them back tenfold. He's been outstanding over the last couple of seasons, he grew up a stone's throw from the ground and the kid loves the club.
"But that only lasts a certain amount of time. Then he starts seeing the pound signs and sees the likes of Barcelona, Real Madrid or - dare I say it - Manchester United - and then your head gets turned.
"The only way they can keep him is to win something this year. That something might not be the Carabao Cup, it might have to be the league or the FA Cup."
Last season's Premier League Golden Boot winner has started the season slowly with two goals in five league games for Spurs, although he has been sharper in Europe where he found the net twice in the 3-1 win over Borussia Dortmund.