World Cup
Spain approach Morocco for a joint 2030 World Cup bid together with Portugal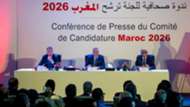 Spain has invited Morocco to join them in bidding to host the 2030 World Cup together with Portugal.
Spanish Prime Minister Pedro Sanchez was in Rabat on Monday where he had a meeting with his Moroccan counterpart Saadedin Al Othmani and invited the North Africans for the intercontinental bid which would be the first of its kind.
Sanchez also met with Morocco King Mohamed VI, who is reported to have been very receptive of the idea. "We are going to start working on the presentation of the candidacy," Sanchez was quoted as saying by Spanish publication El Pais.
Spain hope that Morocco can attract African and Arab votes, while them and Portugal can have the backing of European countries. This comes fresh after Morocco's candidacy to host the 2026 World Cup in June failed against joint US, Canada and Mexico bid.
Soon after, Algeria was reported to be considering launching a 2030 World Cup co-hosting bid with Morocco and Tunisia. A combined British bid of England, Scotland, Wales and Northern Ireland has also been touted as a possibility, with Uefa President Aleksander Ceferin backing it.
Serbia, Romania, Bulgaria and Greece are rumoured to be mulling to jointly stage the same tournament. Argentina, Uruguay and Paraguay have already agreed to contest for rights to organise the 2030 World Cup.
In 2030, Fifa would be celebrating the centenary of the World Cup which was first staged in Uruguay in 1930.