Goal United
South African coaches see us as a threat, says Delron Buckley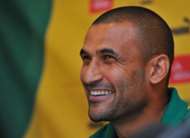 Following the recent release of former Bafana Bafana star Delron Buckley's book called My Life, the 39-year-old shared some of his thoughts on his career and South African football in general.
In Buckley's book, he speaks about how on his return to South Africa he was deemed too old to play for South Africa's biggest clubs, and Buckley has been critical of those who believe once a player reaches 30 he is past his best.
"It's a kind of a sickness that they have here in South Africa that when a player reaches 30, they think he's not capable of playing," Buckley told Goal.
"But it's very sad because you see in Europe that a player plays until they are 39-40. You shouldn't be judged by your age, but if you still performing and still doing the business it shouldn't be a problem," he added.
The former Borussia Dortmund player also stated that he felt he was released by Maritzburg United because the coach saw him as a threat.
"It wasn't a pleasant way how I ended my career because I was forced to end my career. I Knew in me that my body was capable of playing two more years," Buckley said.
"Us overseas players when we come here, the South African coaches they see us as a threat because they see we have all the experience, all the knowledge, played at the highest level, that we are a danger for them and that is what happened in my last year at Maritzburg.
"I had a feeling that I was a danger to the coach which I couldn't understand because I used to help him in game situations. Like when I was sitting on the bench and we were playing AmaZulu he would come to me and say 'Bucks why is AmaZulu overloading the midfield' and I would tell him coach because we only had two midfielders they had four and I would help him in a way for us to have success," Buckley continued.
"But then he saw it differently because it was a coincidence when I came to training and I was told that the club is no more planning with you and they going to cancel your contract but they still going to pay you. You still have four months left but we don't want you to come back to the club, which was very heartsore," he expressed.
Buckley also believes that despite his success in Europe he never received the same recognition in South Africa.
"When I came back to South Africa even my wife she would say 'but you South African, but you more famous in Germany and you played for the national team 76 times, so why you not recognised in South Africa'," Buckley said.
"I think maybe the reason was the German Bundesliga wasn't televised and maybe people didn't see me doing the business overseas so maybe that could be the one problem. But I'm here now, I've been in this country for five years and slowly but surely I'm getting recognised."
The former winger also says that the reason that South African footballers are failing abroad is due to their lack of hunger.
"In our days, we were hungry players, we wanted to see our success overseas," Buckley said.
"Now the PSL has improved so dramatically, even money wise that the players have been so pampered and feeling comfortable earning the big money here. It's comfortable, you don't have no stress over here, you play in front of a crowd of a 100 people, only when you play a game between Chiefs and Pirates then it's sold out," Buckley concluded.