World Cup
Wandering to the Socceroos: Josh Risdon's push for a World Cup spot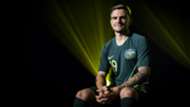 When Josh Risdon made the move from Perth Glory to Western Sydney Wanderers at the start of the A-League season, he had one eye on the red and black and another on the green and gold.
After earning a spot in the Socceroos side in 2015, the 25-year-old found himself out of the squad a year later as World Cup qualification started to heat up. 
Desperate to reclaim a green and gold jersey, Risdon made the bold choice to leave Glory, a club he had been with for seven seasons, in pursuit of a new challenge that could revitalise his national ambitions. 
That challenge was the Wanderers and a pre-season under Tony Popovic - a coach that turned Risdon into one of the fittest and fastest defenders in the country. 
While he would get only a pre-season with Popovic, the foundations were laid for a successful personal season for Risdon, even if the club were destined to struggle. 
With three assists, 77% tackle success and 72% passing accuracy, Risdon regularly caught the eye across is 18 appearances for the Wanderers. 
Recalled to the Socceroos squad for both crunch play-offs against Syria and Honduras, Risdon's move to Western Sydney immediately paid dividends and he hopes to have done enough to secure a World Cup spot.
"Big goal of mine when I came to the Wanderers was to get back into the national squad and I obviously got involved in those last two qualifiers and the last two friendlies under the new coach so fingers crossed I can get in," Risdon told Goal at the Dolan Warren Awards.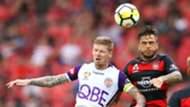 After being included in Bert van Marwijk's first squad for friendlies against Norway and
Colombia
, the signs are looking good for Risdon.
Part of the side that kept a determined, albeit fortunate clean sheet against Colombia, the right back savoured that particular match up and working under the new coach.
"Really enjoyed that camp working under him," he said.
"Good to work with different coaches and different nationalities - you learn different sorts of aspects of coaching. 
"Really enjoyed playing the second game against Colombia, it was probably the sort of opposition we'll be playing against at the World Cup."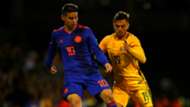 Though personally a successful season, Risdon's new club struggled in the absence of Popovic with eventual replacement Josep Gombau sacked after failing to make the finals.
Risdon admitting the odds were against Gombau and the Wanderers from the start. 
"He obviously came in under difficult circumstances, obviously inherited a squad he hasn't picked and all those sorts of things," he said. 
"The club's obviously looked to go in a different direction.
"One of those seasons, with the coach leaving a week before the season doesn't help.
"But hopefully we can turn it around next season."
Contracted to the club for another year, Risdon will be hoping to return to Western Sydney after an off-season spent in Russia.