Tottenham Hotspur
'Smalling's got Kane in his pocket!' - Tottenham striker trolled by... the FA Cup?!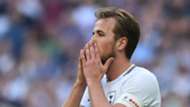 Tottenham star Harry Kane found himself in a rare position on Saturday when he was mocked for his tame performance as his side were knocked out of the FA Cup by Manchester United.
The striker has been terrorising defences consistently in recent seasons as one of the most prolific goalscorers in Europe.
However, the 24-year-old came up against a resilient Chris Smalling in the semi-final of the FA Cup and was kept quiet throughout the 90 minutes as his side suffered a 2-1 defeat.
Smalling impressed against his England team-mate, who failed to get a shot on target at Wembley Stadium.
The centre-back's victory of the battle was well noted on Twitter, and even the FA Cup's official Twitter account got in on the fun. 
Smalling had said before the game that he was looking forward to testing himself against Kane and believes training with Romelu Lukaku every day set him up well to pass with flying colours.
"It's nice to test yourself against the best. I get to train against the best every week and I'll be looking forward to it," he told ESPN. "You tend to raise your game when you play against the best.
Me: What's that in your pocket, Chris?

Chris: pic.twitter.com/7purpLUJMf

— The Emirates FA Cup (@EmiratesFACup) April 21, 2018
"Obviously, everyone is expecting him to score and it's down to myself and whoever I'm playing alongside to keep him quiet. It raises my game to make sure I shut him down and don't give him any opportunities.
"I have had some tussles with [Lukaku] against Everton but now it's day in day out in training. He is a handful and he gets you ready for whatever striker you're going to come up against."