Fahrudin Mustafić
Singapore set to lose one of its loyal servants with Mustafic calling time on epic career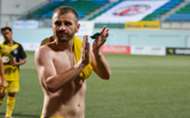 It is no secret that Singapore football will be losing one of its greatest servants after Fahrudin Mustafić decided to call time on his epic career.
Farra as he is affectionately known by made the decision to call it quits at the end of this season in a career which has seen him made 300 appearances for Tampines Rovers and earn 87 caps for Singapore.
For fans of Singapore football, it truly is an end of an era after witnessing the gritty displays of this midfield general over the decade. Personally for my generation growing up and watching local football Mustafić has truly been an exemplary figure. On the pitch he was tough but fair while off it he kept a moderate lifestyle and was away from any scandals that have tainted the career of some of his teammates.
Born in what was then Yugoslavia, the 37-year-old moved to the Lion City at just the tender age of 20 with the assistance of fellow countryman and Tampines Rovers player, Sead Muratovic. Mustafic's time in Singapore would see him truly blossom, particularly as a defensive midfielder.
Never blessed with pace, he more than made up for it with his tactical intelligence, accurate passing and tight marking. His accuracy from the spot-kick was also something Singaporeans would take great delight in.
Fortunately for Singapore, former Lions coach Radojko Avramovic took the initiative of offering Mustafic the chance to don national colours, which yielded success for the Lions on the international front. Who could ever forget the first goal he scored for Singapore from the spot-kick in the 2007 AFF Championship final, against Thailand at the National Stadium.
Singapore would go on to retain their AFF crown in the 2007 edition of the tournament. Farra would add another AFF Championship winner's medal in 2012 as he helped the Lions to what was their fourth AFF Suzuki Cup title.
At club level, the Serb's medal haul includes two S.League titles in 2004 and 2005, to go along with his Singapore Cup winner's medals in 2004 and 2006.
Despite his medals, it must be said that Mustafic throughout his playing career has at times been overshadowed by his more skilful teammates such as the mercurial Noh Alam Shah or the goal scoring machine Aleksandar Đurić. But his retirement, I believe will now cast a shadow on Singapore football.
It remains to be seen whether any of the upcoming footballers in Singapore can match Farra's longevity, discipline and dedication for the game. These are all rare qualities that tend to go missing in the modern game. Fortunately for Singapore Farra looks set to return to football soon in a coaching capacity. And for that gesture combined with his service to the beautiful game he deserves our salute.