Diego Simeone
Simeone, Capello and more speak at Dubai International Sports Conference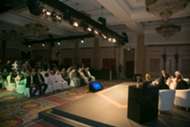 From Eric Wynalda to Fabio Capello and Ferran Soriano, media and fans were treated to a morning of valuable information that started with the Professional Leagues Model. Former USMNT player Eric Wynalda, La Liga President Javier Tebas and Serie A CEO Marco Brunelli were all present to speak about their experiences.
Wynalda was focused on the negative part of US football, claiming that "our country has never engaged in the real business of football". He continued that their attempts to "Americanise the sport" have only led to failure, which the USMNT are experiencing now after failing to qualify for the 2018 FIFA World Cup.
The second program was about Football Academies and Club Assets, with Atletico Madrid head coach Diego Simeone speaking alongside current Jiangsu head coach Fabio Capello and Egypt National Team head coach Hector Cuper.
Capello focused on communication and how it is important for players to know the values on the football pitch. He highlighted Mario Balotelli, who according to Capello is a "huge talent who got lost because of this [his inability to focus, communicate and understand the values of football]".
The final program was one that focused on Successful Club Models. The CEO of Manchester City, Ferran Soriano, spoke with the Vice President of Monaco, Vadim Vasilyev, and the CEO of Roma, Umberto Gandini. Soriano claimed that the next step for Manchester City is to "develop 2 or 3 Emirati players" after finding success in their academy in Abu Dhabi.