Simba
Simba set to announce another striker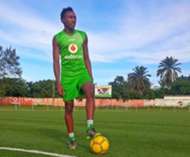 Simba is all but set to announce Tanzania Prison striker's Mohamed Rashid as their new player. This is not good news for Burundian striker Laudit Mavugo and Juma Luizio who will be allowed to leave the club, reports say.
The Wekundu wa Msimbazi outfit have already captured Lipuli's star Adam Salamba and Maji Maji's Marcel Kaheza.
The signing of Mohamed Rashid will lead to departures as head coach Pierre Lechantre will not able to accomodate seven strikers in the same team.
As it stands, Simba have seven strikers Emmanuel Okwi, John Bocco, Juma Luizio, Marcel Kaheza, Moses Kitandu, Adam Salamba plus Mohamed Rashid.
Rashid has scored 10 goals to help Tanzania Prison finish fourth in the Premier League league this season.