Paul Pogba
'Sh*t happens' - Pogba issues defiant response after Liverpool shocker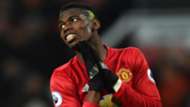 Paul Pogba says he is "ready to fight" after giving away a penalty to allow Liverpool to take the lead against Manchester United in Sunday's 1-1 draw.
Pogba: I rejected Barcelona and Real Madrid
The France midfielder jumped up to challenge for a header in the first half of the Premier League match at Old Trafford, only for the ball to strike his hand.
After James Milner converted the resultant penalty, United looked doomed to defeat until Zlatan Ibrahimovic popped up late in the game with a header to secure a draw.
The embarrassment was worse for Pogba as all attention was on the world's most expensive player ahead of the encounter, with the ex-Juventus star sporting a brand new hairstyle while he was given his own Twitter hashtag emoji during the week.
But he opted for a different emoji on Instagram to give his thoughts on the match, insisting that he and his team-mates must start preparing for the next match - away to Stoke on Saturday.
"[Sh*t] happens," he posted with a picture. "That's when we need be strong. I'm here, ready to fight and ready for the next one! 
Alexis admits to tax fraud totalling nearly €1m
"I'd like to thank the supporters who are always there and keep believing in me. At least we did not lose. Never stop fighting."
Sunday's draw saw United's winning streak come to a halt at nine games and leaves them sitting 12 points off league leaders Chelsea.