Manchester United
Shaw's Manchester United career has been disappointing, says Scholes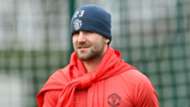 ---
EXCLUSIVE
---
Paul Scholes has told Goal his is disappointed by Luke Shaw's lack of progression at Manchester United, claiming that if he was "fit and firing he would definitely be first choice".
The left-back has played just once in three months for United, with his exclusion from the midweek trip to Saint-Etienne in the Europa League the latest in a series of snubs by manager Jose Mourinho.
And Mourinho's insistence this week that it is up to Shaw to work his way back into the reckoning means it his highly unlikely the former Southampton star will line up against his old club in Sunday's EFL Cup final at Wembley.
Mou: Not all players winners like me
"He did not make the trip because I'm playing with Daley Blind, with Marcos Rojo, with Darmian, and all of them are playing a way I like a full-back to play," Mourinho said in Saint-Etienne on Tuesday. "Luke has to wait for his chance, working better and better, knowing that I give nothing away for free."
And Scholes admits that he has also been left unimpressed by the 21-year-old's form since signing for United in 2014.
"Luke Shaw's a disappointing one actually. From Southampton and playing for England, you've got a potential to be one of the best left-backs in the world, but for some reason, whether Mourinho's handling him the way he did with Henrikh Mkhitaryan or whether he's not playing him to try to give him a bit of hunger, a bit of desire to come into the team and prove how good he is, I don't know."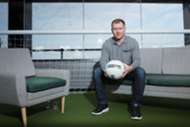 Asked if the full-back's 2015 leg break, which kept him out for 10 months, had left mental scarring, Scholes added: "He's had a few injuries, hasn't he?
Shaw must work harder - Mourinho
"It's difficult to tell since we don't know what's going on at the training ground but he's been fit for a few weeks now and whether his focus is totally on football or on something else I don't know, but for one reason or another the manager's not playing him.
"If he was fit and flying and playing the way he should be, and training the way he should be, he would definitely be the first-choice left back."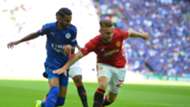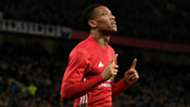 Mourinho's treatment of Shaw comes after the Portuguese handled Armenian forward Mkhitaryan similarly earlier this season, while Anthony Martial has also been left out at times amid questions from the manager over his form.
And Scholes says it is the manager's prerogative to do that based on what he sees at close quarters.
"It's his right to do that, isn't it? He sees them every day in training, he knows if they're doing well enough day-in, day-out to be in his team on a Saturday.
'Mkhi's cup final absence good news'
"It was a puzzle about Mkhitaryan, we just didn't know what was happening with the player we'd seen for so long but there was obviously something that wasn't quite right in his performance when he did play, or in his training performances. But now he looks like a totally different player.
"Martial I think he's done similar things with. I think he's left him out for long spells, he brought him in against Watford and he did really well. He's a young player as well, people forget how young he is. He's going to make mistakes a lot but I think it's clear to see the potential he has. He could be one of the real top players in the world."
Enterprise Rent-A-Car is an official partner of the UEFA Europa League. As a fan of the game, visit http://www.enterprise.com to enjoy special rates on car hire across Europe.