UEFA Champions League
Sevilla favourites? Leicester are Premier League champions - Iborra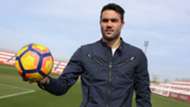 ---
EXCLUSIVE
---
Sevilla midfielder Vicente Iborra says Leicester deserve respect in the sides' Champions League last-16 tie because they won the Premier League last season.
Sampaoli on Barca: You never know
Leicester surprised everyone by claiming the title in 2015-16, but the Foxes are in trouble this term as they sit just a point clear of the drop zone with 25 matches played.
Form has been particularly poor of late, but Iborra told Goal in an exclusive interview head of the sides' meeting at the Sanchez Pizjuan on Wednesday: "The tie is at 50 per cent and we will respect our rival, despite their inconsistent season.
"They are suffering down at the bottom, but we shouldn't forget that last season they achieved something of real value when they won the Premier League. They deserve our respect."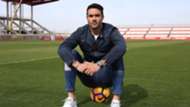 For their part, Sevilla won the Europa League for the past three seasons under Unai Emery, who moved on to Paris Saint-Germain in the summer, and Iborra believes the Basque boss laid solid foundations at the club.
Dani Alves slams Barcelona board
"Emery gave us many good things," he said. "He gave us the ambition, the winning mentality, the idea of never giving up until the match is over. There is still an important group of players from when he was here. They know the philosophy of the club, the importance of the dressing room, and we are working to get to where we want to be."
After winning the Europa League three times in a row, the objective now is to take a step forward in the Champions League and Iborra said: "We are really excited that this moment has arrived. We are aware of how difficult it is going to be, but it's a special opportunity and we want to take advantage."
Argentine coach Jorge Sampaoli took over from Emery in the summer and results have been excellent, despite a shaky start in which the team conceded too many goals. Sevilla are now third in La Liga and in with a great chance of making the last eight in the Champions League.
"I think the important thing is the results," Iborra said. "At the start of the season we had a new coach with a new philosophy and new players and those conditions meant we didn't have an identity to start with, but the results helped us to keep working and allow us to get accustomed to the new philosophy."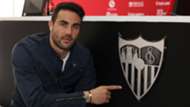 Iborra is Sevilla's captain and very much a jack of all trades under Sampaoli, as he has been used all over the pitch including in defence at times and also in attack.
Insigne: Napoli can turn it around against Madrid
"What I want is to play and I don't mind where," he said. "I'm always ready to play wherever the coach sees fit and I work to take those opportunities when they come around. I work to stay in the team on merit."
The 29-year-old rejected a move to Sunderland in the summer and said: "I think I have grown along with the club since I arrived. I have won titles, I feel loved and I feel valued. My family are happy and I believe I am at a top club. There were many reasons to stay."
And the chance of adding more silverware is one of them. "If I had one wish for this season," he said, "it would be for us to win a trophy."