Lazio
Serie A's Anne Frank controversy continues as some Lazio fans sing fascist songs and salute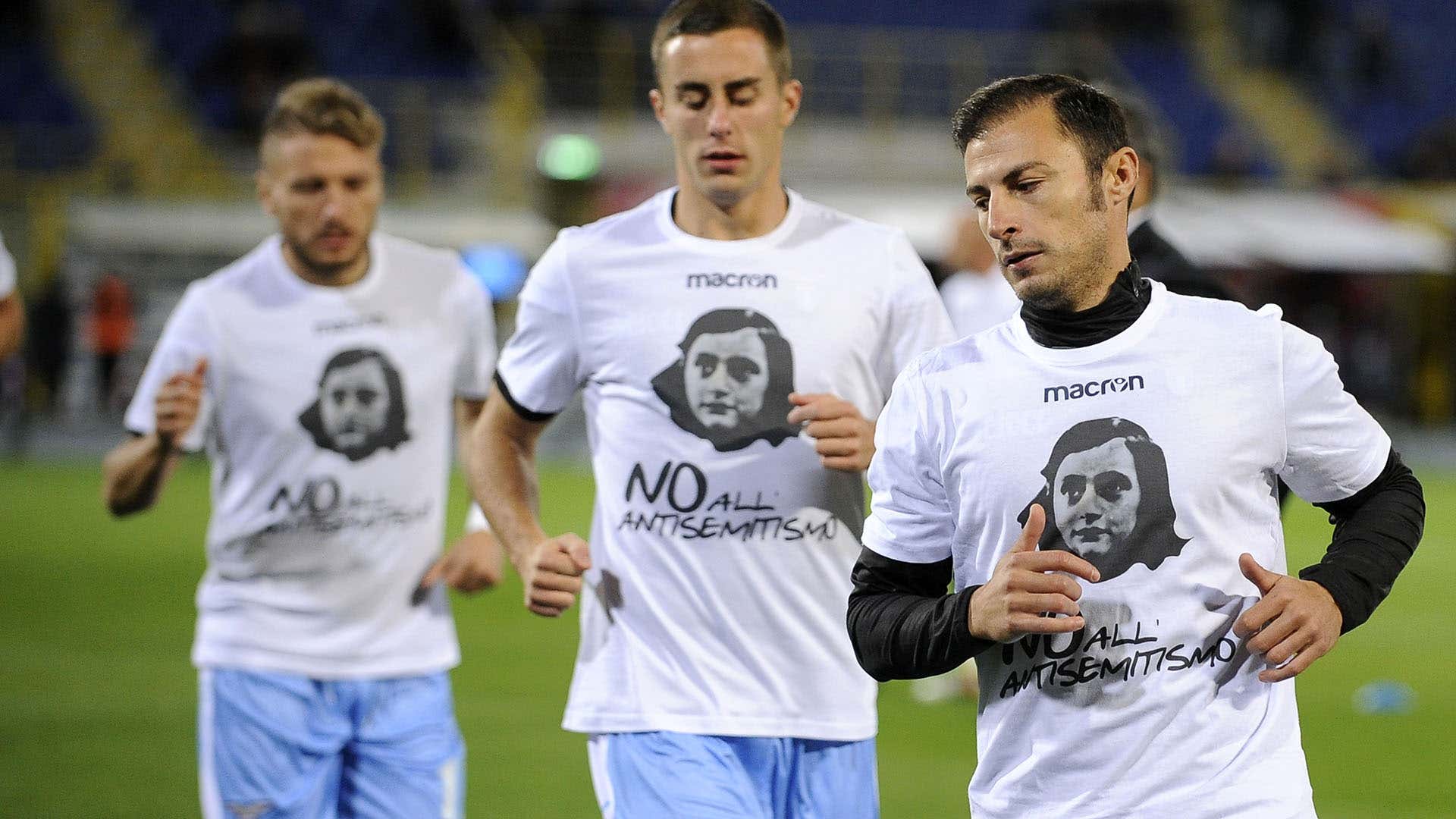 Attempts to tackle anti-semitism among Lazio fans could hardly have gone worse on Wednesday.
The club have been locked in a battle with their supporters after making headlines by placing stickers of Anne Frank wearing a Roma jersey in their rivals' end of the Stadio Olimpico during Saturday's 3-0 win over Cagliari.
The incident caused outrage throughout the country, with Italian prime minister, Paolo Gentiloni, saying the images were "unbelievable, unacceptable and to not be minimised".
Lazio took action by having their players warm-up for the game at Bologna in t-shirts with her face on them and the message "no to anti-semitism", while there was a moment of reflection and a section of the Holocaust victim's diary was read out over the loudspeaker before Lazio's 2-1 away win.
The very targets of the message, however, were not there to take it in. Some Lazio supporters boycotted the reading and then proceeded to sing fascist songs and make salutes in the stand.
The incident was made worse given the fans were situated in a stand named in tribute to Arpad Weisz, a former Inter and Bologna coach who was killed in Auschwitz.
It's the latest controversy for Lazio, who have undermined their own endeavours to deal with anti-semitism.
The club's visit to a synagogue was marred by club president Claudio Lotito describing it as a "charade" before he confused it with a mosque in an interview.
However, Lotito insists there will be an ongoing scheme to educate fans about the issue.
"The club is working hard to fight and prevent these incidents and the majority of our fans clearly support us.
"Lazio will promote an initiative: every year, 200 people will go and visit Auschwitz in order to make people aware of what we're talking about."
Meanwhile, former Lazio player and current Torino coach Sinisa Mihajlovic made headlines when he was asked about the issue and revealed he had no idea who Anne Frank was.
While the Italian Football Federation (FIGC) says it hopes to deal with "the stupidity of sparse minorities of pseudo-fans who damage the image of all Italian football", a Juventus fan group hit out at the reaction to the incidents, stating the actions of Ultras groups should not be taken so seriously.
"Above all our way of supporting and engaging in banter at times might exceed into dark humour but should be read in context of simple football rivalry! Nothing more," they said.