MLS
Seattle Sounders midfielder Michael Farfan announces retirement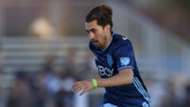 Seattle Sounders midfielder Michael Farfan announced his retirement in a Facebook post on Friday.
The 29-year-old, who made one league appearance with the Sounders last season, had also featured in MLS for D.C. United and the Philadelphia Union. It was in Philadelphia where he made the most impact, having made 85 league apearances and scoring four times with the Union.
Wondo: Done with MLS when I retire
Farfan also had a brief stint in Liga MX, where he made a single 12-minute appearance for Cruz Azul in the 2013-14 campaign. He scored in his lone Mexican league match.