WTF
Schweinsteiger, Kane among footballers wishing the USA a happy Independence Day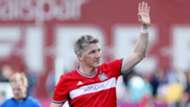 July 4 may be an American holiday, but that has not stopped footballers and clubs from around the world wishing their fans a happy Independence Day.
Bastian Schweinsteiger is among those who have taken part in wishing his American fans the best as the United States celebrates its 241st anniversary since the Declaration of Independence in 1776.
Madrid's 15 worst signings of all time
But while Schweinsteiger's well-wishes may not be too surprising given he currently plays for the Chicago Fire in MLS, other European stars have also joined in, including Harry Kane and Jerome Boateng.
Wishing a very happy Independence Day to all my American friends 

— Basti Schweinsteiger (@BSchweinsteiger) July 4, 2017
Happy #IndependenceDay to everyone celebrating. Look forward to our trip to USA in a couple of weeks! pic.twitter.com/WAQNWYjDor

— Harry Kane (@HKane) July 4, 2017
Wishing all my American followers a happy #IndependenceDay Enjoy the time with your family and friends! #FourthofJuly #jb17

— Jerome Boateng (@JB17Official) July 4, 2017
Happy 4th of July to family, friends and teammates from #Independenceday #Neighbours

— Patrice Bernier (@pbernier10) July 4, 2017
The players aren't the only ones getting in on the act as clubs also have tweeted out their Independence Day messages, with those that could reaching for their American players, past and present, to provide the imagery.
Happy #IndependenceDay to everyone in the pic.twitter.com/f16AnOPwv2

— Borussia Dortmund (@BVB) July 4, 2017
Wishing all of our followers a happy #FourthOfJuly from @BobbyS_Wood and everyone here at #HSV!  #nurderHSV #IndependenceDay pic.twitter.com/kzqjYO0Y8i

— Hamburger SV (@HSV_English) July 4, 2017
Happy Independence Day to our American fans! pic.twitter.com/n9sOS4JmOz

— Manchester United (@ManUtd) July 4, 2017
Happy #IndependenceDay from all of us at Arsenal pic.twitter.com/8tnLhQWSna

— Arsenal FC (@Arsenal) July 4, 2017
 | Happy #IndependenceDay, @evertonusa, all American Evertonians and US-based Blues!

Here's @TimHowardGK with a 'rare' #GoalOfTheDay!  pic.twitter.com/9lQ9dl0EwI

— Everton (@Everton) July 4, 2017
HAPPY #INDEPENDENCEDAY #USA!
Let's celebrate later in the week when we're coming over the pond! #SGE #Eintracht #Timmy #Chandler pic.twitter.com/UvMzmgkB0P

— Eintracht Frankfurt (@eintracht_eng) July 4, 2017