KPL
Schindler grab second spot in Left Foot league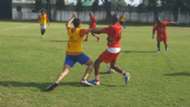 Schindler Limited grabbed second spot in Left Foot Division Two league despite losing 2-0 to Disciples FC over the weekend.
Despite the defeat, Schindler Ltd accumulated 32 points; just one ahead of Davis and Shirtliff Ltd, who managed 31 points. The two teams together with Sumo Insurance Brokers will now play in Division One league of Left Foot Sports in 2018 Season 13.
In Division One, GreenZone Property beat Nyayo FC 2-0, Amiran Lions lost by a solitary goal to Madaraka FC while Rapid Communications suffered a 2-1 defeat to Hurlingham FC.
Cosmos FC managed a 0-0 draw against HHM in Division Three while in Division Four, DGM Matrix lost 5-2 to M-Kopa Solar, Nyayo Kingdom Champions drew 1-1 with One Africa Logistics Limited and Vitambi Viishe drew 1-1 against Methodist Guest House.
In Division Five, Mwangaza FC lost 3-0 to Aviation Services while Letsheho won 1-0 against Momentum FC.
Meanwhile, the Mombasa Corporate League continued with Maersk Group the big winners after hammering Texas Alarms 9-3. Tradewinds FC won 3-1 against Sea Bulk Limited; Total Kenya won 4-0 against Console Base while Bamburi Cement beat Kitchen King 2-0.