Arsenal
Sanogo confirms Arsenal exit and won't blame Wenger for his lack of games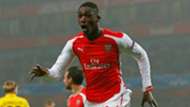 Yaya Sanogo has confirmed he is leaving Arsenal when his contract at the Emirates Stadium expires in the summer.
The French striker joined the club from Auxerre four years ago but failed to make an impact, playing just 20 competitive games and scoring a single goal.
Sanogo went out on loan four times during his time with the Gunners, but says he does not blame Arsene Wenger for not playing him.
"The adventure ends," he told L'Equipe.
"I maybe did not always do what was necessary to impose myself.
"But Wenger is a great manager and he taught me a lot."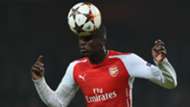 The 24-year-old also rued the injuries that he felt cost him the chance to shine, including a calf injury which meant he was sidelined for seven months.
"There is this frustration about not knowing what the source of my pain was," he continued
"I came back in January, with a fitness trainer, and I was able to play again for Arsenal's reserves.
"It was very hard when I was injured. You feel so mentally alone."
Arsenal favourites to sign Mahrez
However, Sanogo still remembers his better times at Arsenal – including a famous four-goal haul in pre-season, recalling: "There were moments where I was good.
"I remember the summer of 2014 when, during the Emirates Cup, I scored a quadruple against Benfica."