Sanchez on fire but summer in chaos - Man Utd's malaise continues as Martial goes AWOL
From the minute Manchester United landed in Los Angeles for their 2018 summer tour, Jose Mourinho made it clear that preparation for the new season was going to be far from ideal due to the absences of 12 players following World Cup duty.
But even the United manager could not have envisaged their US trip being quite as disjointed as it has become, with their continued search for a victory inside 90 minutes following the 9-8 penalty win against AC Milan on Wednesday night seeming immaterial following the early departure of want-away attacker Anthony Martial.
Martial quit the tour a week early to return to Paris to be at the birth of his son, with rumours emanating from the camp that he had told team-mates he will not be returning stateside to rejoin the squad.
The Frenchman, whose future had already looked destined to lie away from Old Trafford for some time, has attracted the ire of Mourinho with his latest decision. It is just the latest twist during a summer which has had the Portuguese sporting a furrowed brow throughout.
While the lack of many World Cup stars until the final days before the season is down to simple misfortune, Alexis Sanchez's visa delay, Antonio Valencia's injury, the lack of victories against mediocre opposition and the board's inability to get anymore transfers over the line have all combined to raise Mourinho's frustrations further.
The lack of decent attendances will also spark questions over a return to the US in 12 months' time however much the manager swears by the preparation afforded him at his favoured UCLA training base.
One saving grace for the boss to this point has been Sanchez's form since arriving in America, and the former Arsenal forward was United's star man by some distance in the 1-1 draw with Milan in Carson.
Playing in the centre of attack in the absence of Martial, Sanchez was always lively and seemingly revelled in the spotlight as United's sole forward of any seniority. After netting the opening goal coolly from a delicious Juan Mata touch, Sanchez later turned on the tricks with an attempted shot from a corner and an outside-of-the-foot flick effort when driving into the channel on a counter.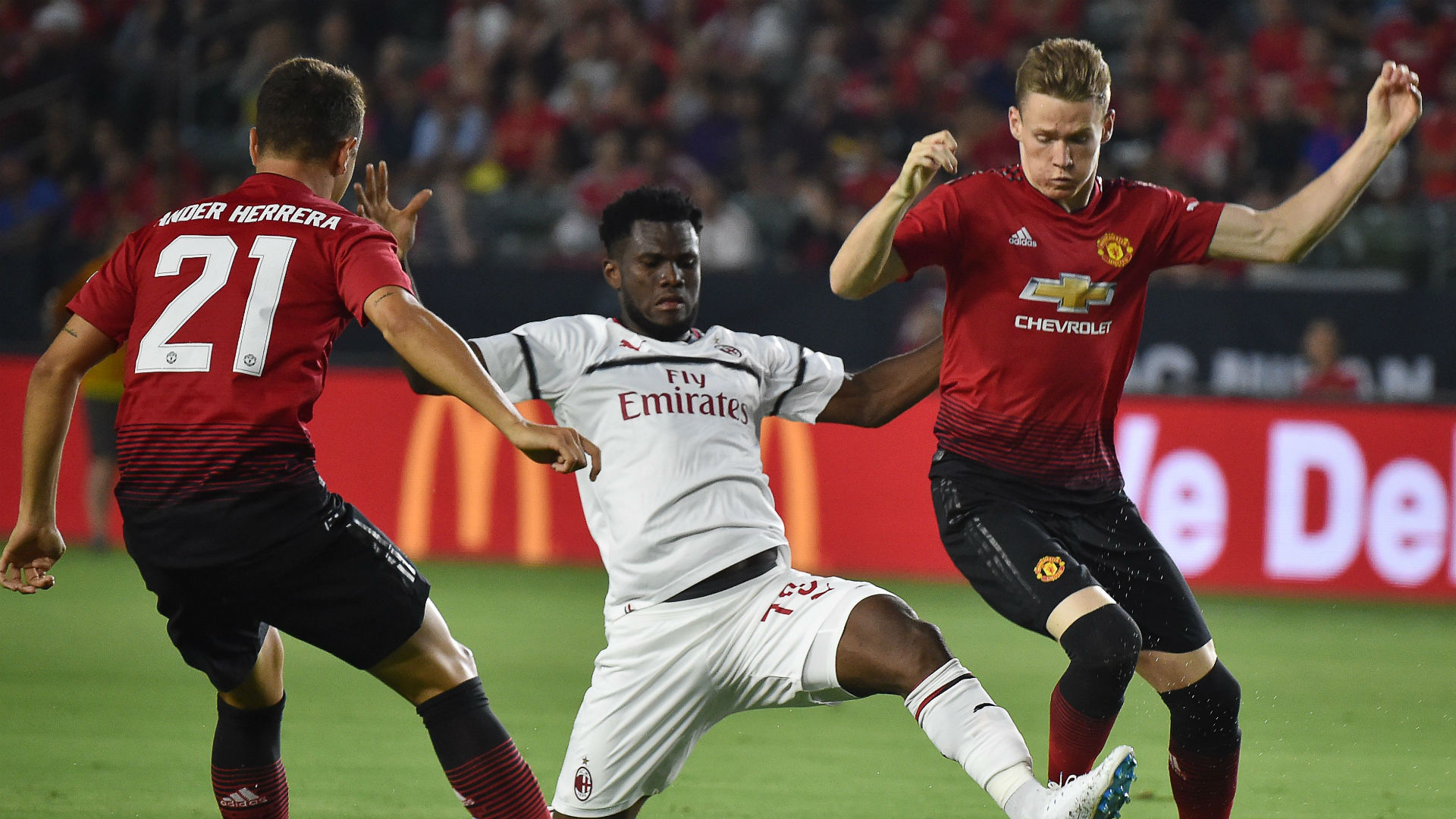 Despite having missed out on a few days of intensive work with the squad due to the admin issue caused by his blocked visa application, Sanchez looks as sharp as he has at any point in a United shirt. The 29-year-old's arrival in January served to push Martial to the fringes of the squad but never quite saw him hit his stride in 2017-18, and Mourinho will be hopeful that Sanchez's early summer form can lead to improved performances in the season ahead.
Typically, United's performance raised more concerns though. Within two minutes of Sanchez's excellent goal they had managed to part like the Red Sea to allow Suso the time and space needed to equalise. Leonardo Bonucci's rudimentary long ball found the Spaniard after Axel Tuanzebe had watched his man run off him and both Chris Smalling and Eric Bailly failed to react. It was just another moment on this wretched tour that left Mourinho fuming, and but for some slack Milan finishing the mood may have deepened later on.
While United's display was slicker in general than their performances against Club America and San Jose Earthquakes, they could easily have conceded from a number of half-chances that Milan failed to take, must notably when Fabio Borini hit the post late on. Matters weren't helped by the fact most of the United side had to pull a full 90-minute shift due to the lack of experience on the bench, with only 10 first-team starts between the 10 available substitutes.
The vibe around United is that they need a fast start to Mourinho's third season if the boss is to keep the fans off his back but all the signs at present suggest that there will be a difficulty getting any kind of cohesion out of this squad in the short term.
Nemanja Matic has now rejoined the group and David de Gea and Fred will follow in the coming days, but United need a whole heap of positivity right now. Some full stadiums would be nice, even one or two new signings maybe. And a resolution of the Martial malaise needs to be reached sooner rather than later too.