Transfers
Dyche compares Sanchez-Man United move to 'Harry Potter'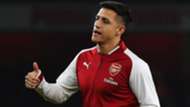 Burnley manager Sean Dyche defended Manchester United's lucrative pursuit of Arsenal star Alexis Sanchez, referencing blockbuster novel and movie "Harry Potter."
Sanchez is closing in on a transfer to United, who are reportedly set to make the Chile international the highest-paid player in the Premier League after hijacking Manchester City's move.
Much has been said about the figures involved in the deal, which is expected to see out-of-favour United playmaker Henrikh Mkhitaryan move in the opposite direction.
Dyche, however, is not surprised by the fees as he highlighted the money being made by film stars in Hollywood.
"It's become a major, major business and I don't think it's going to stop," Dyche said ahead of United's visit Saturday.
"Take Daniel Radcliffe, who played Harry Potter. So he starts off with the first film, he's 13 and he gets 150 grand. Do you think he got 150 grand for the second film? He certainly did not.
"Then the third film comes along and now he's 15 and he gets 15 million, let's say. Then the fourth film comes along and he isn't getting 15 million, he's getting 35 million and he's still only 19.
"No one comes along and says, 'No, no, no, give him 150,000, that's what he got for the first film.' That's ridiculous. So why should it be different for sportsmen?
"It will be interesting to see what the next TV deal does in football because I'll be amazed if it doesn't go up."