Premier League
Sala death caused by head and trunk injuries, coroner confirms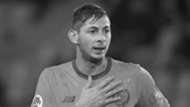 Emiliano Sala's death was caused by injuries to his head and trunk, it has been confirmed.
Argentine striker Sala was on board a Piper Malibu aircraft that disappeared over the English Channel last month on its way from Nantes to Cardiff, after the 28-year-old had become the Premier League club's record signing.
Last week, a body was recovered from the wreckage of the plane and subsequently identified as that of Sala. Pilot David Ibbotson, the only other person on board, is yet to be found.
During Monday's hearing of the post-mortem examination, Dorset Coroner's Court concluded Sala's passing was caused by injuries to his head and trunk.
There will now be an interim investigation which is expected to be concluded within the next six to 12 months.
The inquest also heard that Sala's body had to be identified from fingerprints after it was recovered. 
Ian Parry, a senior coroner's officer for Dorset, said: "Mr Sala was identified on February 7 by means of fingerprint evidence analyses by fingerprint expert Christopher Bradbury.
"A post mortem was carried out after the body was taken to Holly Tree Lodge mortuary.
"Home office pathologist Mr Purdue gave the cause of death as 1a head and trunk injuries."
The search continues for Ibbotson with a number of figures from the world of football having donated to a search fund set up by the pilot's family.
Paris Saint-Germain's Kylian Mbappe donated £27,000 ($35,000) while Gary Lineker submitted £1,000 ($1,300) to the search and shared it on his Twitter account.
The fundraising effort has raised £159,000 ($204,000) of a £300,000 ($386,000) target as of Monday afternoon.
Cardiff City, meanwhile, have canceled a four-day training camp in Tenerife following the tragedy.
The Bluebirds have won their last two games, beating Bournemouth and Southampton respectively, but manager Neil Warnock felt it right to abandon the trip as his players continue to recover from recent events.
There was some controversy during their game against Southampton on Saturday with two fans being banned by the Saints after making indecent gestures in reference to the plane crash.