WC Qualification Africa
Safa reports R23.1 million profit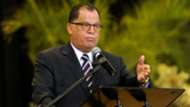 The South African Football Association (Safa) reported a R23.1 million profit at its annual end-of-the-year congress on Saturday. 
Safa made a R45 million loss in the 2014/15 financial year, and the profit is seen as a huge financial turnaround for the association. 
Dr Danny Jordaan was visibly pleased as he addressed members of the media. He also revealed the reason for moving Safa's elective congress, which was supposed to take place on Saturday (December 2), to next year.  
"Another reason for moving elections to the next congress was to make them fall in line with Fifa," Jordaan told the media.
"It has been quite disruptive in the past to have elections just a few months before the World Cup," he said. 
"The decision to move the elections was also in line with Safa's Vision 2022, which is an eight-year programme that started in 2014 and will culminate with the 2022 World Cup in Qatar," continued the Safa president. 
Jordaan said he was proud of what the Safa executive has achieved almost four years into Vision 2022. 
"When we came in, none of our national teams had qualified for international events in 2013. However, since 2015, our Under-17s have made it to their World Cup [twice], we had the male [Under-23] and female [Banyana Banyana] teams at last year's Olympic Games in Brazil and our Under-20s qualified for their World Cup in South Korea," Jordaan said.
On Bafana Bafana's failure to qualify for the 2018 Fifa World Cup, Jordaan said the association is disappointed. 
"We are obviously disappointed, but we are working on a technical plan that will improve their performance, as well as address South Africa's problem of scoring goals," he admitted.
Safa's Chief Finacial Officer (CFO) Gronie Hluyo said the association had to be creative in ensuring that they turn things around without relying heavily on sponsorships.
The country's FA had to cut down on travel and accomodation, and also trimmed staff down to 68 from 76, subsequently saving around R5 million in salaries among other saving mechanisms.    
Other contributors to the increased revenue include:
- Fifa's Forward Programme that gave an annual grant of $500 000 (R6.8 million) as well as the $170 000 given to African countries for travel expenses.
- An $842 000 grant from the Confederation of African Football (Caf) as a share for broadcast rights;
- A $100 000 annual grant from Caf, up from the previous $25 000 a year;
- A new four-year broadcast deal with the SABC worth R100m a year after Siyaya TV gave up their rights to the SABC;
- The SAA sponsorship increasing from R10m a year to R25m annually this financial year.
Safa is busy building a National Technical Centre believed to be in the region of R100 million at the Fun Valley, south of Johannesburg. The association is using money from Fifa grants and the 2010 Fifa Legacy Trust.